91 FREE Synonyms/Antonyms Worksheets printable
Got a great worksheet on Synonyms/Antonyms? Tell us about it and become a BusyTeacher contributor!
Submit a Worksheet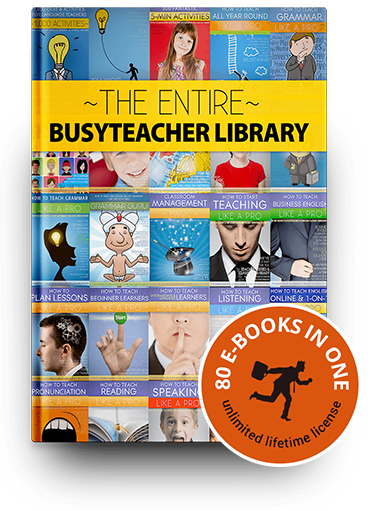 Dramatically improve the way you teach:
Get the Entire BusyTeacher Library
Includes the best of BusyTeacher: all 80 of our PDF e-books. 4,036 pages filled with thousands of practical activities and tips that you can start using today. Instant download, 30-day money back guarantee.
Get it now and start reading in 3 minutes!
About Our Synonyms/Antonyms Worksheets
Synonyms and antonyms are another important aspect of word building that you can easily include in your lessons at any level. Even beginners learn antonyms when they study adjectives like tall, short, big, and small at which point they will also probably learn that small and little are similar. There are
91 worksheets available in this section
now with more being added all the time by busy teachers like you.
Here is an example
. This is a challenging word game created for intermediate students that encourages them to work in groups, have fun, and use synonyms. The directions are included on the last page of the document and, if there are particular words that you would like students to practice, it couldn't be simpler to edit the cards. This popular worksheet is one of many so if it is not appropriate for your students, consider one of the other worksheets instead. Remember that all our worksheets are free so you should visit again the next time you need a worksheet.