1,980 FREE
ESL Essentials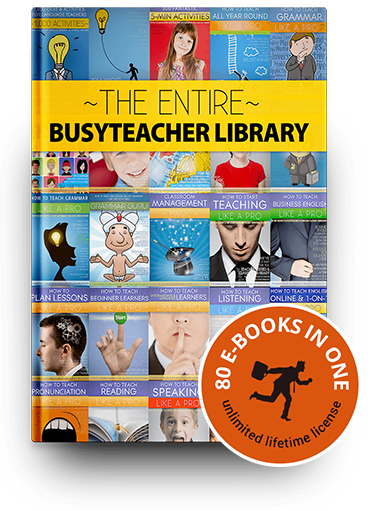 Dramatically improve the way you teach:
Get the Entire BusyTeacher Library
Includes the best of BusyTeacher: all 80 of our PDF e-books. 4,036 pages filled with thousands of practical activities and tips that you can start using today. Instant download, 30-day money back guarantee.
Get it now and start reading in 3 minutes!
About Our ESL Essentials
ESL Essentials Ė Important Teaching Tips
In this section there are
1,980 articles that cover essential ESL topics
such as how to teach grammar, use realia, and teach young learners. There are also a lot of lesson ideas and fun activities included in the articles. This
ESL article
, for example, is about teaching grammar and describes five great activities. It has been given five stars by other busy teachers so it obviously has useful content. Check it out for yourself or take a look at other articles that relate better to your questions or teaching situation.
There are a lot of dos and doníts and tips and tricks that many teachers learn through teaching.
Our ESL Essentials section will help you master the basics of teaching English and will help you start teaching like a 'pro'. Every ESL Essentials article provides clear, to-the-point instructions that can be used with the students right away.
At the moment we have
1,980 ESL Essentials.
Sometimes that is the best way to learn but the experiences of others can also help you develop your teaching skills without having to make the same mistakes. If you have a great story or activity, feel free to submit your own article so that you can share your knowledge with others. We would love to hear from you!