1,725 FREE
ESL Songs For Teaching English
Got a great worksheet on ESL Songs For Teaching English? Tell us about it and become a BusyTeacher contributor!
Submit a Worksheet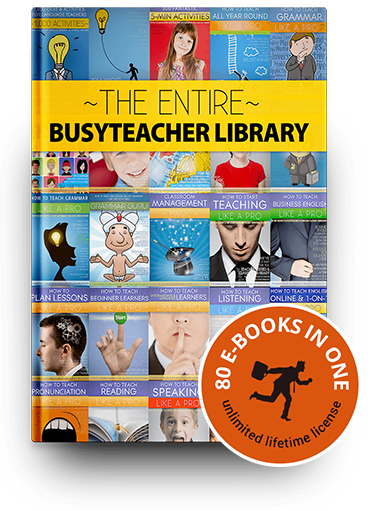 Dramatically improve the way you teach:
Get the Entire BusyTeacher Library
Includes the best of BusyTeacher: all 80 of our PDF e-books. 4,036 pages filled with thousands of practical activities and tips that you can start using today. Instant download, 30-day money back guarantee.
Get it now and start reading in 3 minutes!
About Our ESL Songs For Teaching English Worksheets
Music can be a great way to connect with your students. Even students who aren't fluent in English often know the words of popular songs phonetically, which makes these songs ideal resources for teaching your students certain forms of grammar, as well as vocabulary. Many students are happy to work with the unusual phrasing of song lyrics, because they're learning new meanings for a piece of music that already has meaning in their lives.
You might never have noticed it before, but many songs' lyrics involve just one single tense - which means that as soon as you find a song that contains the tense you want to teach, you've got the makings of an exercise that your students will love. They'll get to brag to their non-English-speaking friends that they know exactly what the song's lyrics say, so they'll be extra-motivated to stick with you throughout the activity to make sure they learn those meanings correctly. But where should you start your search for the right song? Right here on BusyTeacher.org, of course! Our 1,725 song worksheets provide you with a wealth of resources for teaching tenses, sentence structure, vocabulary, and all kinds of other aspects of English - all with songs that your students already know and love. We've even taken the time to organize our library of song worksheets by verb tense, or by the type of activity that each worksheet helps you organize.
While some of our 1,725 worksheets simply focus on a certain feature of grammar that's used a lot in a given song, others encourage more advanced students to really listen for the song's meaning, and speak or write about their own interpretations of its lyrics. Some of our worksheets focus on idioms used in certain songs, or on the phonetics and pronunciation different singers use. Whether you want to teach the past simple tense with "Call Me Maybe" or practice vocabulary with Coldplay, BusyTeacher.org's library has a worksheet for you.
Not only are these worksheets built around internationally popular songs that'll be familiar to your students - they're also designed by real ESL teachers around the world, who've had success using them in their classrooms. This means that whenever you download a worksheet from BusyTeacher.org, you can be sure that it's already been tested and proven useful by a teacher just like you.
In fact, our whole community depends on worksheet contributions from teachers like you - so if you've got a worksheet that you think others would like, click the "Submit a worksheet" button at the bottom of this page, and send it our way. It might show up in an ESL classroom halfway around the world!
All of our 1,725 song worksheets are completely free to download, print, use, and share - so grab any that look like they might be handy. Our helpful "quick view" feature lets you get a glimpse of each worksheet as a small thumbnail, so you can save time by only clicking those that look like what you need. So take a look at the worksheets on this page, print off any that catch your eye, and see how they play in your classroom. Each one ought to be a hit!