The 9 Best Mobile Apps for Your ESL Students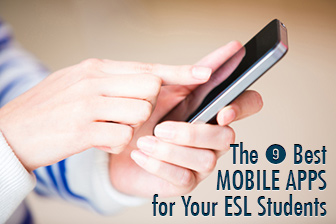 If you haven't witnessed the explosion of Smartphone popularity, you have been living under a rock.
Thousands upon thousands of applications are available from Apple's App Store, Android Market or Blackberry App World, and the number of downloads are astounding; millions are downloaded – every month. There are apps for everything you can imagine from productivity apps to apps to help you manage your finances. And, of course, there are language-learning apps. Now, as ESL teachers, should we capitalize on the Smartphone phenomenon and recommend language-learning apps for our students? Check out the list below and reach your own conclusions.

The Hard Facts about Mobile Language Learning Apps
Smartphone ownership is on the rise all over the world. In the US alone, half of American adults own a Smartphone (source).
Fifty percent of US mobile subscribers download apps (source).
Millions of apps are downloaded every month – all over the world (source).

Advantages of Recommending Language Learning Apps to Students
Convenience – The mobility of these devices provides students with the chance to study/review any day, any time, without the need to remember to bring their books or class materials.
Efficiency – Most apps are tremendously user-friendly and well-organized into topics. This means students don't waste any time looking for what they want to practice.
Engagement – Language learning apps are the ideal tool to engage learners who are very tech-minded and naturally enjoy using gadgets.
So, if you have students who are tech-savvy and love trying out new apps, here are some that are the perfect complement to their ESL classes:

The 9 Best ESL Mobile Apps for Your Students
These are but a few of the hundreds of apps available for mobile learning.
If you have tried any and would like to recommend them, please tell us about them in the comments below!
What is your verdict? Do you believe these are valuable tools for ESL learners or simply flashy apps for gadget lovers? Sound off in the comments below!
Rate this article:
was this article helpful?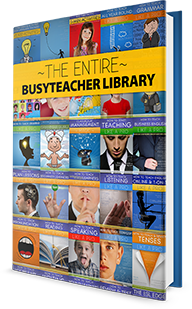 The Entire Busy Teacher Library:
61 current titles + all future titles (free!)
Truly, we might be a little bit crazy, but we know that at this point in the term, things are tight for teachers, and you need a little help, which makes it the right time for our best deal ever. For just $99, you will immediately receive all 61 of our current, bestselling titles. Within a few minutes, you'll have thousands of new BusyTeacher expert approved tips and tricks for teaching grammar, vocabulary, pronunciation, and students at every level from beginner to advanced.
Get it right now - limited time offer ›
Trending Articles right now:

xecole
said on 21 February 2014 09:19:
I find the best returns come from apps which concentrate on one specific area such as irregular verbs (VerbBusters) or phrasal verbs (PhrasalVerbWorkout).

rita-weiss
said on 20 February 2014 13:08:
Thank you for this article. I'm in love with Cambridge and I have almost every app. I tried MyWordBook also and find it really useful. I have pre-intermediate level but I can't find good tests. Currently I'm using this nice grammar app with tests https://play.google.com/store/apps/details?id=english.grammar.test.app&hl=ru Maybe someone could recommend me something else


Manomi
said on 18 February 2014 08:05:
Why don't you try this one... I found this one as the most useful app http://goo.gl/HiJwh... Its the best for English

mandarino
said on 11 February 2014 11:48:
This list is very useful. I am currently using an free app that's named iLearn: English (http://ilearnenglishapp.com/) and I have found it amazing. This app has different exercises inside and it also has gorgeous photos. Give it a try!.

Nancy Champ
said on 10 February 2014 17:03:
"Tap&Count100" This PreK iPad App is FUN & TEACHES the Kido how to Count To 100 in English using her/his senses of: sight, sound and touch. It is 'sensory encounter' for learning. The student sees the numeral, taps the numeral, "HEARS" the number name...& can count along! A tool that the English speaking students can use to practice and practice...It is ALSO A WONDERFUL WAY FOR ESL STUDENTS TO LEARN HOW TO COUNT TO 100 IN ENGLISH. https://itunes.apple.com/us/app/tap-count-100/id692879518?ls=1&mt=8

lingorado
said on 22 January 2014 10:03:
There's an app for iOS called "toPhonetics" that helps students of English to learn pronunciation. You give an English text and it shows phonetic transcription of the whole text using International Phonetic Alphabet. There's a website too at http://lingorado.com/ipa/.

mina03
said on 19 December 2013 11:06:
this is verry useful


PhoneEnglishUK
said on 6 December 2013 15:27:
One thing we realised at Phone English is that there's not much in the app market for business learners of English. That's why we've devised Speak and Learn Business English which is a new iOS app for business learners. It's based around 20 business dialogues in a story format for context. Learners can listen and complete exercises based on key business themes like negotiations, giving biographical information and presentations. Learners can record their own voice speaking the dialogue so they can compare with the original. The key thing is that learning is customisable so students can tap to add key language to their own store which is also editable.

If the learner has only 5 minutes to spare at the airport, they can do a quick, meaningful task so it's ideal for the busy professional on the move. I don't think there is anything as comprehensive out there in app form. There's more here: http://www.phone-english.net/portfolio/business-english-iphone-app/

We are so impressed with the functionality, we've submitted it for a British Council award.

Thanks for the article which really helps teachers navigate to some of the best apps out there so they can offer encourage students to practise English outside of the classroom.

TESLTeacherToo
said on 29 July 2013 23:06:
I'd like to add Supiki English Conversation Practice App. This app is really impressive: smartly designed and effective. Students can practice having spontaneous, unscripted conversations. The app listens and responds conversationally, encouraging imaginative and fluent language. Among the best I've seen for language learning.

sheilinka
said on 23 May 2013 05:10:
I would like to add my series of apps for American English Pronunciation. I'm releasing different ones for different language backgrounds. Learners can practice their aural discrimination of minimal pairs and get immediate feedback from the games.
Check out http://www.appstore.com/dmitrylebedenko
and you'll find
1) Consonant Clusters
2) American English Pronunciation for Chinese
3) American English Pronunciation for Vietnamese

emailwriter
said on 17 February 2013 21:20:
May I add EmailWriter? It's the first app that allows the user to write perfect business e-mails and job applications in English, simply by selecting from numerous formulations, sentence by sentence. EmailWriter is also perfect for learning or for exam preparation; writing e-mails and letters is an integral part of business English exams. In EmailWriter users will find everything they need.

http://www.emailwriter.de
sumu9999
said on 23 August 2012 13:53:
Fabulous
Information

| | |
| --- | --- |
| | Please register to leave comments. Registration is free and takes only a minute! |