7 Great Places to Look for ESL Listening Material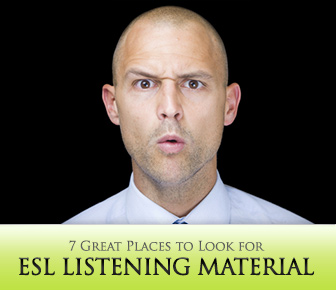 If you're an ESL teacher like me, you're always on the lookout for new listening material.
If you're an ESL teacher like me, you feel the CD that comes with the coursebook is not enough to really boost students' listening comprehension. If you're an ESL teacher like me, you're gonna love these seven websites. They offer audio and video that you can use in the classroom or recommend to students so they can work on improving listening comprehension in their own study time.

7 Great Places to Look for ESL Listening Material
No matter which site you choose, you'll be giving your students ample opportunity to fine tune their listening and hone those skills that may be a little rusty.
Don't forget to encourage them to try as many listening activities as they can in their free time. The awesome thing about these sites is that they offer scripts, vocabulary lists and plenty of other resources that won't leave your students navigating alone in a sea of English listening exercises. Most of these sites are tailored specifically to English learners and the audio is high quality, with conversations spoken by native speakers. What more can you ask for?
Have you ever tried any of these websites for listening practice? Which of these are completely new to you? Any others to recommend? Share below!
Rate this article:
was this article helpful?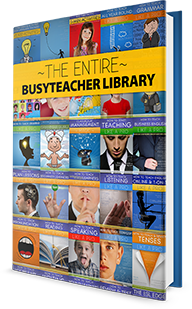 The Entire Busy Teacher Library:
61 current titles + all future titles (free!)
Truly, we might be a little bit crazy, but we know that at this point in the term, things are tight for teachers, and you need a little help, which makes it the right time for our best deal ever. For just $99, you will immediately receive all 61 of our current, bestselling titles. Within a few minutes, you'll have thousands of new BusyTeacher expert approved tips and tricks for teaching grammar, vocabulary, pronunciation, and students at every level from beginner to advanced.
Get it right now - limited time offer ›
Trending Articles right now:

ClaudiaPesce
said on 19 March 2013 17:48:
M. J. Lopez F.,
Yes! I have never come across anything like Randall's ESL Lab. It's a really great site for ESL listening!

ruizjakm
said on 19 March 2013 03:33:
Hi
I think they are greats. I am looking forward to try them all with my students!!!!!!!

M. J. Lopez F.
said on 18 March 2013 16:02:
I have recommended Randall's ESL-lab for many years. He works very diligently on it, always adding new material and entirely for free. My students at all levels benefit from it and also enjoy the section on culture. One of the aspects I appreciate as a university ESL teacher is that one isn't bombarded with pleas for money, nor ads. If you like, you'll be notified when there's new material, but only then. Randall certainly deserves remuneration, but my salary is in Mexican pesos and it doesn't stretch very far. Therefore, I'm always on the lookout for free sites and this is definitely one of the best.
Thanks, Randall.
Information

| | |
| --- | --- |
| | Please register to leave comments. Registration is free and takes only a minute! |