How Do You Say That? The 10 Coolest Pronunciation Tools for ESL Students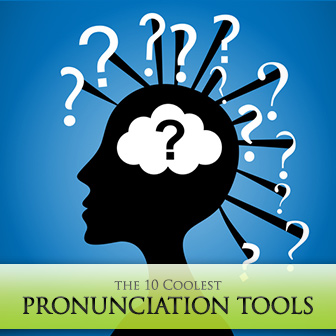 ESL students struggle with a lot of things.
Many of these they can practice with the use of self-study materials. They can do as many grammar exercises as they want; they can work with audio and video to improve listening; they can even join native English speakers in their free time for some extra speaking practice. But it is not likely they will correct your students' pronunciation. Pronunciation is one of those things that only teachers correct – in the classroom. Friends and acquaintances will usually let pronunciation mistakes slide for the sake of keeping the conversation flowing.
So what can your students do in their self-study time to improve their pronunciation? In today's technological age, the best solutions to any of our problems are usually found online or in apps. And here some pronunciation tools you can recommend to your ESL students.

Top 5 Mobile Apps for Pronunciation Practice

Top 5 Online Tools for Pronunciation Practice
With the resources listed above, students shouldn't have any excuses for not practicing pronunciation at home. On the contrary!
They'll be too eager to practice as these apps and websites certainly make pronunciation more fun!
Have you ever used these or other websites/apps? If you have, please share your experience below!
Want more tips like this?
Hear and Say: New Ways of Teaching Listening and Pronunciation:
Change Listening and Pronunciation Lessons from Feared to Favorites in Minutes!
YES, show me sample pages ›
30-day money back guarantee 100% secure
Enjoyed this article and learned something? Click the buttons below to share it!

Print
Rate this article:
was this article helpful?
Trending Articles right now: