92,346 views
by Claudia Pesce
ESL students struggle with a lot of things.
Many of these they can practice with the use of self-study materials. They can do as many grammar exercises as they want; they can work with audio and video to improve listening; they can even join native English speakers in their free time for some extra speaking practice. But it is not likely they will correct your students' pronunciation. Pronunciation is one of those things that only teachers correct – in the classroom. Friends and acquaintances will usually let pronunciation mistakes slide for the sake of keeping the conversation flowing.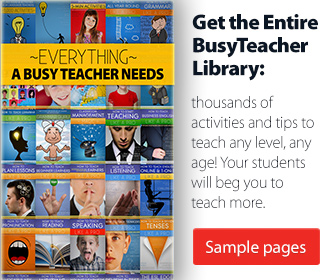 So what can your students do in their self-study time to improve their pronunciation? In today's technological age, the best solutions to any of our problems are usually found online or in apps. And here some pronunciation tools you can recommend to your ESL students.

Top 5 Mobile Apps for Pronunciation Practice

Top 5 Online Tools for Pronunciation Practice
With the resources listed above, students shouldn't have any excuses for not practicing pronunciation at home. On the contrary!
They'll be too eager to practice as these apps and websites certainly make pronunciation more fun!
Have you ever used these or other websites/apps? If you have, please share your experience below!
Enjoyed this article and learned something? Please share it!
Want more teaching tips like this?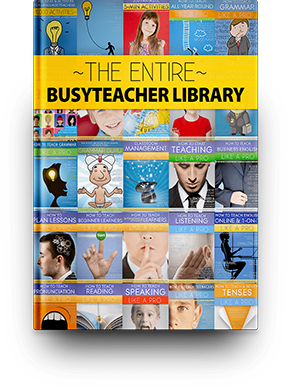 Get the Entire BusyTeacher Library
Instant download. Includes all 80 of our e-books, with thousands of practical activities and tips for your lessons. This collection can turn you into a pro at teaching English in a variety of areas, if you read and use it.
Show me sample pages →

Print
Rate this article:
was this article helpful?

The 9 Best Online Resources for ESL Pronunciation Practice
0
47,648

0

Online Odysseys
3 Websites to Help You Teach Pronunciation
0
5,060

0

Top 10 Tips for Teaching Pronunciation in ESL classes
0
13,473

0

Pronunciation 101
7 Things Your Students Need to Hear You Explain
0
39,388

0

Itís Not A Secret Code
The Simple System That Can Help Your Students Achieve Perfect Pronunciation
0
11,674

0

The 9 Best Mobile Apps for Your ESL Students
0
195,652

0
Subscribe to our weekly newsletter!