131,573 views
by Claudia Pesce
Oliver Twist couldn't have said it better when he sang, "Food, glorious food!" in the musical "Oliver"! To really be appreciated, food has to be tasted, smelled, and savored.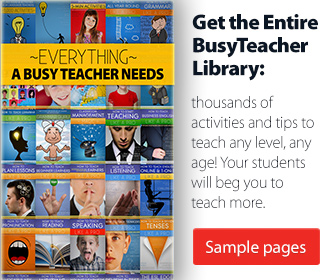 Of course, for practical purposes, food vocabulary is taught in ESL classes through flashcards and illustrations. But wouldn't it be "glorious" to actually use real food? Or at the very least plastic, toy food?
6 ESL Games & Activities With Food
In cases in which bringing large quantities of fresh produce is not feasible, remember there are complete sets of plastic food available in the market at very affordable prices. Bear in mind that it is a one time investment, as they are usually very durable toys.
You may even share the investment with other ESL teachers and have a box of food supplies ready for any of your lessons.
For more great activities, we have plenty of Food, Fruit and Vegetables, or Restaurant worksheets to guarantee your students will not only learn the right vocabulary, but also learn a valuable lesson in nutrition.
Enjoyed this article and learned something? Please share it!
Want more teaching tips like this?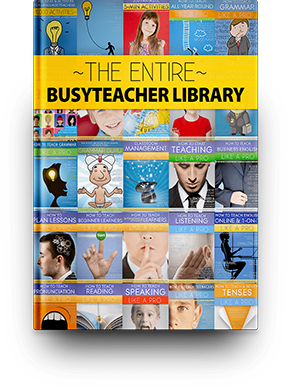 Get the Entire BusyTeacher Library
Warning: only if you're serious about teaching English.
Includes all 80 of our e-books (that's 4,036 pages in total), with thousands of practical activities and tips for your lessons. This collection will turn you into a pro at teaching English in a variety of areas, if you read and use it. Instant download, 30-day money back guarantee.
Show me sample pages →

Print
Rate this article:
was this article helpful?

Fill Your Plate with these Food Themed ESL Activities
0
47,285

0

Fit as a Fiddle
7 ESL Activities to Celebrate World Health Day
0
12,043

0

Help Yourself to Seconds
More Ideas for Teaching a Cross-Curricular ESL Unit on Food
0
12,006

0

No Junk Here
Fun Food Activities for the ESL Classroom
0
24,717

0

School Days, School Days
Highly Effective Discussion Based Activities on School
0
12,879

0

Eat Up
Activities You Can Use for a Cross-Curricular ESL Unit on Food
0
11,223

0
Subscribe to our weekly newsletter!