How to Teach Reported Speech: Alternative Approach
Reported speech is used to talk about things other people have said. Instead of introducing this topic using a range of different tenses, stick with a very simple structure for this first lesson. "He said he liked soccer." where both verbs are past tense, would be ideal. A lesson on reported speech is the perfect opportunity to review different structures and vocabulary.
How to Proceed
1

Warm up

Use the warm up activity to get some simple sentences on the board. You can elicit certain sentence structures if students need more practice with something in particular. You can do this by asking students to make groups and giving each group a different question to answer. This way you will get three to six sentences for each structure and can cover a range of topics. After giving students some time to discuss their questions and write individual answers, have volunteers read sentences aloud. Write some sentences and the names of the student volunteers on the board. Be sure to use at least one sentence from each group.

2

Introduce Reported Speech

You may choose to have students stay in their groups or return to their desks for the introduction. You can try to elicit the target structure by asking a question such as "What did Ben say?" Try to use a sentence that is written on the board. Most likely students will search for the name Ben and then read the sentence exactly as you have written it but you can then say "You're right! He said he was very tired. Good job!" You have now introduced the target structure. Write the sentence He said he was very tired. on the board next to Ben's original sentence I am very tired. Use a few more sentences from the warm up as examples and encourage students to make reported speech sentences. Now play a short game such as Crisscross with the remaining examples to give students some practice.

3

Practice

In their groups, students should trade sentences with group members and rewrite the sentences using the reported speech structure. Be sure to allow time for the majority of students to present their sentences to the class so that students can have lots of examples and some speaking practice. If students have questions, this is an excellent time to address them and review anything they are struggling with. Next use short video or audio clips for an exercise where students listen to material and complete a worksheet testing comprehension and practicing reported speech. You could also use a written dialogue for this type of activity but it will be more challenging if students have to listen to the material even if that means reading the dialogue aloud to the class. Check the answers as a class after several repetitions. If there is time, you can also play the material once more after the answers have been checked.

4

Produce

Reported speech is a great opportunity for students to do interviews with classmates, teachers or family members so this activity may be best as a homework assignment. If students have never had the opportunity to conduct interviews before, it would be good to provide them with several questions to ask. It may also be helpful to provide the translations of these questions for the interviewees.

5

Review

What students present depends on the amount of time you would like to spend on this activity. Students could either use the reported speech structure to talk about the response to one interview question or summarize their findings. This activity allows you to ensure that students are using the structure correctly. If students have difficulty with something, you can review and practice that in the warm up for the next lesson.
Being able to talk about things they have heard allows students to share more information. It is one thing to say what you think and totally different to talk about what other people have said. This will definitely be practiced further when you talk about giving advice because often someone will prompt advice giving by saying something like "I want to/think ~ but my parents said ~." Covering this topic thoroughly now will give students the confidence to create this section of dialogue in giving advice dialogues and role plays later on.
See our Reported Speech worksheets here.
Rate this article:
was this article helpful?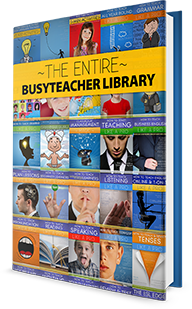 The Entire Busy Teacher Library:
61 current titles + all future titles (free!)
Truly, we might be a little bit crazy, but we know that at this point in the term, things are tight for teachers, and you need a little help, which makes it the right time for our best deal ever. For just $99, you will immediately receive all 61 of our current, bestselling titles. Within a few minutes, you'll have thousands of new BusyTeacher expert approved tips and tricks for teaching grammar, vocabulary, pronunciation, and students at every level from beginner to advanced.
Get it right now - limited time offer ›
Trending Articles right now:

tnair
said on 16 December 2013 18:00:
this is a very good way for introducing reported speech...thank you

ricki cahyana
said on 22 August 2013 08:15:
very useful, thanks. hopefully i share one of mine

kim ngan
said on 2 November 2012 13:47:
i think it's good. i will apply this

taurina
said on 20 October 2012 20:23:
It will help me!!! I am going to teach "Reported speech" next week :)
kisses

thank you


Jedimaster1980
said on 10 March 2012 07:09:
Very interesting and useful, thank you very much for make easier my day

ueslteacher
said on 28 February 2011 02:31:
I'd like to add an idea, if I may. I offered my students (6th grade) to create three posters as a group activity on three topics "Family and Friends", "Hobbies", and "Weather". We glued some bright cut-outs of different people from magazines, leaving some space for the speech bubbles. (It is nice to use bright, colour paper as backgrounds.) Then, the students made statements on the given topics using direct speech, like: "I love my daughter"(for a picture of a woman and a girl), "I don't have a friend" -- "I can be your friend", "I hate rainy weather"(for a picture of a girl wearing one boot), etc. and we checked them for mistakes. There should be at least five statements for each poster. They wrote the sentences in the speech bubbles with black markers. They really enjoyed the activity. At the next lesson we're going to use the posters as a warmer for reported speech practice (we've already talked about the transition from present to past, and from first person to third, and drilled that, too)

Tatyana Zahkharova
said on 7 February 2011 22:30:
It is a very interesting approach to that rather difficult aspact of English. I emplyed it in my class - kids liked it. Thanks)))

jamal
said on 7 February 2011 10:14:
I think it's very interesting. The students will really enjoy talking about things other people have said through this approach.
Thanks a lot.
Information

| | |
| --- | --- |
| | Please register to leave comments. Registration is free and takes only a minute! |