Managing Your Classroom with the Swipe of Your Finger: Best Free Teacher Apps for the iPad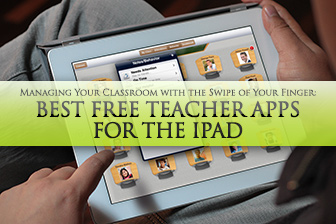 Technology is all around us. In the ever-expanding digital age, we are inundated with tools, websites, and devices.
While it can seem overwhelming, especially when we are used to a traditional way of learning and teaching, technology has made many aspects of a teacher's job easier. Soon we will get to a day where we can't remember how we ever taught without a computer!
The latest and greatest technology in the classroom is the iPad. The slim, sleek, shiny tool is not only good for slinging disgruntled birds across the screen, but also for making our jobs as teachers easier. Here's a summary of some of the FREE apps that I can't live without:

Try These Best Free Teacher Apps for Your iPad
While solely relying on technology should never be used in place of a properly-planned lesson, using technology effectively can greatly enhance student learning or ease teacher administrative responsibilities.
Having all of these management apps on one tiny device rather than four binders full of paper will help make your job easier and allow you to focus on teaching!
What are your favorite apps for the classroom?
Rate this article:
was this article helpful?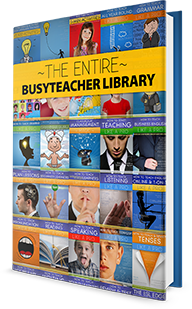 The Entire Busy Teacher Library:
61 current titles + all future titles (free!)
Truly, we might be a little bit crazy, but we know that at this point in the term, things are tight for teachers, and you need a little help, which makes it the right time for our best deal ever. For just $99, you will immediately receive all 61 of our current, bestselling titles. Within a few minutes, you'll have thousands of new BusyTeacher expert approved tips and tricks for teaching grammar, vocabulary, pronunciation, and students at every level from beginner to advanced.
Get it right now - limited time offer ›
Trending Articles right now:

NIRMALJEET KAUR
said on 16 February 2013 00:45:
It is a excellent media to teach and manage the classroom effectively. I would love to incorporate this in my classroom as my pupils themselves are inclined to anything related to
tablets and latest techs.I myself want to use it to the extend of maximizing the goal of my teaching without letting it overpowering the lesson.:)

Ellieluce
said on 13 February 2013 09:15:
Hi - do you have a similar list for Android users? We don't all have an iPad........!! many thanks
Information

| | |
| --- | --- |
| | Please register to leave comments. Registration is free and takes only a minute! |