Trending Articles right now:
Are You Boring Your Students? How to Turn a Snore Fest into a Barrel of Fun!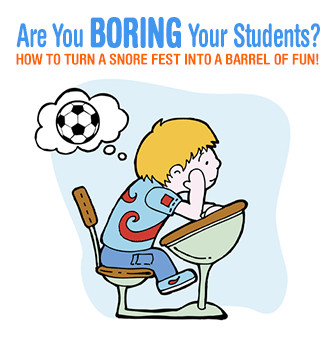 You ask your ESL class a question, and you're met with a room full of blank stares. You call out a student's name, but getting an answer from him is like pulling teeth. You notice that someone in the back is actually dozing off (ouch!), and as you walk towards the back of the room, you catch another student texting a friend on their phone…
Finally, to add insult to injury, another student is watching a video on their iPod. If there were a sign over your classroom door, it would read "Entering Dullsville."
While the above description is clearly an exaggeration, every ESL teacher at some point in their teaching career has had to deal with unmotivated students, boring course material or quite honestly been bored themselves with what they have to teach. So, hop onto our express train and leave Dullsville for good!

How to Turn a Snore Fest into a Barrel of Fun
Now, you're officially leaving Dullsville, and there's no looking back.
You're headed to a much better place, one that will provide the perfect learning environment for your students – and keep them engaged for the duration of the course.
Giving students fun, engaging lessons – that's what BusyTeacher.org is all about! If you have any tips for making lessons less dull and more fun, please share them below!
Rate this article:
was this article helpful?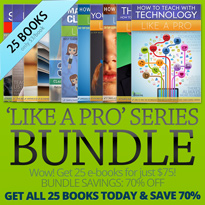 Get 25 'Like a Pro' ESL E-books at 70% OFF!
Don't miss this unique opportunity to get the complete 'Like a Pro' series (twenty-five phenomenally popular ESL best-sellers) at only $3/book. Unbeatably priced, this Bundle literally saves you hundreds of dollars and fits your budget just right!
Get all 25 e-books right now ›

viviangeor
said on 7 October 2012 16:51:
That was great help. Thank you!

arshita
said on 25 August 2012 23:47:
well, I think I need these when i teach some new classes in the beginning of the semester.
it will be successful to get their attention.

Linh S.Meng
said on 21 August 2012 16:38:
These are so nice, i love them since it helps me in the teaching field.


Beyhan
said on 26 July 2012 18:41:
I think boring course book is an important factor.It needs adaptation.This needs to cover everything to be taught.From time to time Iguess I'm boring.It is impossible to address all the intelligences.Games,role plays,hand crafts,competitions,songs can be useful motivators.Thanks for your useful teaching tips.

crazydog
said on 26 July 2012 13:40:
Can't thank you enough for the help...new teachers as myself need this,definitely will use this...starting DAY 1.

adri28
said on 26 July 2012 01:11:
These keys are very good. I would like to have been able to use them in the classroom. Now I understand why I did not become a successful teacher at private schools.
Now, I am private teacher and give classes to adults. I am going to apply these keys. Thank you.

ClaudiaPesce
said on 25 July 2012 13:11:
I'm glad you all liked it! A good rule of thumb is if you're having fun, your students are, too!

tanya79
said on 24 July 2012 20:58:
thanks for describing those most useful ways of making classes lively and motivating our students! I think we all should bear them in mind

mohamed kassem
said on 22 July 2012 13:12:
Thanks alot for the interesting article. It would help me in my classroom to make it fun.

anahitbanahit
said on 22 July 2012 08:39:
Hello ! Sometimes I need using new techniques in my classrooms so it's great you are here and want to help us.I think it's useful and hope your techniques will help me in my work.

vincent2011
said on 21 July 2012 23:57:
Hi.
All that sounds great and hope some of those techniques will help me in my classroom. thank you.
Information

| | |
| --- | --- |
| | Please register to leave comments. Registration is free and takes only a minute! |