7 Things Your Quiet ESL Students Are Not Telling You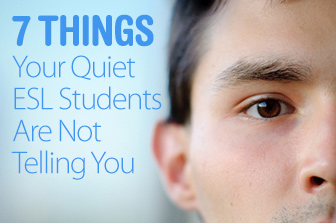 Isn't it great when we have ESL students who are very vocal about their needs?
They arrive to their first day of class, tell you all about their English-learning background and describe what they hope to accomplish. When they don't understand, they tell you. If you're going too fast, they ask you to slow down. If only all ESL students were like that…

By contrast, we are sometimes met with a quiet room full of blank stares. How do you know what's going on in their heads if they don't say anything? If you have students who are too quiet, chances are there is something they are not telling you, which you'll need to find out – fast!

Important Things Your Students Are Not Telling You:
1

I'm hearing too many new words.

Do you give your students long lists of vocabulary words or do you introduce new vocab in digestible sets of five to six words? When you give them instructions, do you use words they may not understand? Students who are too shy or don't want to be disrespectful may not tell you they did not understand half of what you said or the story you read. Make sure you introduce new vocabulary as appropriate, i.e. before reading a story or giving instructions for a new task. Check for comprehension of the new words, and only then proceed with the task.

2

It's too hard for me to do this on my own. Can I work with a classmate?

Some students are overwhelmed by an exercise or task, and would feel much more comfortable working with another student. Don't underestimate the value of pair work or team work. Lots of students enjoy it and thrive in this type of task. Of course, not all tasks should be completed in pairs or teams. But they shouldn't have to do everything on their own, either.

3

Please don't put me on the spot.

Some students love being in the spotlight, the center of attention. Others would prefer to blend into the wallpaper. If you believe a student in particular is having a hard time with an exercise or task, or if they can't answer a question, don't insist in front of the entire class. Check back with the student at the end of class to make sure he/she understood.

4

Please, be patient with me. I'm trying my best.

You've probably seen this happen. A student says he/she does not understand something, and you explain. The student still does not understand, so you re-phrase and try again. The student still does not understand. Under no circumstances must we lose our patience. You try by all means possible to help the student grasp whatever it is he or she is having trouble grasping, and if they still don't, you set a moment to talk about it, perhaps after class.

5

I need some time to think before I answer.

Some people don't like long silences or pauses, and ESL teachers are no different. But sometimes students don't answer questions as quickly as we'd like them to. The question dangles in the air, and if the student takes too long, we either answer it ourselves or ask another student to do it. Some students need time to think. Give them a few extra seconds, and then perhaps a clue or a nudge to steer them in the right direction.

6

I don't care about "Mr. Smith" from the book. This is boring!

Nine out of ten times when students are bored, they are bored with the coursebook. But they might not tell you that. They are not interested in some fictional character's conversations with his boss or family. Though we should use a coursebook in class, sometimes it's best to adjust it and adapt it to better suit our students' interests.

7

I don't understand your handwriting.

Students take forever to copy from the board and whisper amongst themselves while they do so. You don't know that what they are whispering is, "What does question number 2 say?" Some students struggle with your handwriting, but they won't tell you that. Instead of guessing, it's far easier to just ask, "Is my writing clear? Let me know if you can read it all." Try switching from cursive to print handwriting. For longer exercises, you might want to consider giving them copies – it certainly saves time.
Let's bear in mind that cultural differences may come into play. In some cultures students are taught to respect their teacher, and they don't want to offend. In others, it is not accustomed for students to make eye contact with their instructor.
Students are also different throughout the world. Some are naturally talkative; others are timid and shy. Whatever the reason for your students keeping quiet, just make sure it's not due to the ones mentioned above!
Have you ever had an unnaturally quiet class or student? What did you identify to be the problem? Share below!
Rate this article:
was this article helpful?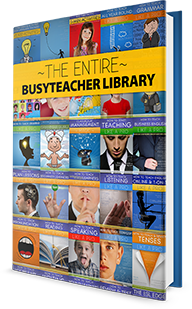 The Entire Busy Teacher Library:
61 current titles + all future titles (free!)
Truly, we might be a little bit crazy, but we know that at this point in the term, things are tight for teachers, and you need a little help, which makes it the right time for our best deal ever. For just $99, you will immediately receive all 61 of our current, bestselling titles. Within a few minutes, you'll have thousands of new BusyTeacher expert approved tips and tricks for teaching grammar, vocabulary, pronunciation, and students at every level from beginner to advanced.
Get it right now - limited time offer ›
Trending Articles right now:

guineapigger
said on 29 October 2012 14:16:
I appreciate and agree with the points made in the article. I would like to add that it helps me to remember that sometimes our students' behaviour has nothing at all to do with us. It might be a relationship issue, the weather, a problem at home - any number of things. I say this because it can be easy for a teacher to get into self-blame and to lose confidence. For adolescents in particular, the events going on outside the classroom may well be to them far more real and important than our skilled and conscientious efforts to get them to engage: sometimes their lack of involvement is nothing personal.

MartyZ
said on 28 October 2012 16:06:
Very good article. Should've found it out before my teaching practice :D Should've found the whole site itself before my
teaching practice :D To be honest, I had this student, a 14-year-old-girl, who was completely lost in English and did
not understand the simplest of commands and instructions, although I tried hard to elicit the meaning out of her.
It seemed to me that she gave up on the language, not even trying to grasp the meaning. I simply believe she did not
try her best. Many times the cause may be the teacher, but as I got a fairly positive feedback from the students,
the case may lie somewhere else.

Also, I totally agree with point 6; there was only one story in a course book - a comic one - ever that I liked and got attracted by it.
The trick is, I believe, to stress that "Mr Smith" is just a figure in a story to illustrate grammar (or whatever issue one is
dealing with). That's all. Coming up with examples from life is an excellent way to support the stories from course books.

Also, I strongly believe that when you come into classroom for the first time with the mindset that says "Hey, I'm not a dark lord,
I'm a human just like you and I'm here to do my job and I'm looking forward to co-operation" - I mean that spreads
good mood around a teacher.

olgahagyari
said on 26 October 2012 16:30:
Thank you for article:)

ramine
said on 18 October 2012 11:07:
its quite true. All of them. I still feel helpless sometimes facing situation 6. it's the most difficult one ever. so I get the help of the mother tongue and general culture to get them foccus on the English language skills.

aa_azik
said on 7 October 2012 01:57:
All 7 things are right. But it's sometimes difficult to follow this instruction when you teach more than 30 pupils in the class and you haven't got time after the lessons to share with your pupils.

wantstoknow
said on 4 October 2012 19:37:
how can i deal with these silent ones when i m in a class of 30 students? they r 12 years old and there are too many volunteers to talk about sth else than the topic :(

green-dragon
said on 4 October 2012 16:14:
I've just started teaching ESL for bigger classes (I've been teaching for 3 years one-to-one) and I've found some of my students very unresponsive and then some others (who are the ones who know less) really talkative and eager to speak out. I've tried to give turns to everyone to speak out and so find if they are comfortable or uncomfortable. I don't know if what I'm explaining is too easy for those who are silent or if they are totally lost and don't want to say so. I'm a bit lost there

djazira
said on 3 October 2012 20:18:
that's right.but in any case my students are as my friends,children....

ClaudiaPesce
said on 2 October 2012 13:58:
nikkileo,

So glad this article helped! Don't be discouraged by first lessons that don't go so well. You already saw that the second one was better....keep it up and they will open up in no time!

nikkileo
said on 30 September 2012 23:55:
Claudia,

I just started teaching ESL classes last week. The first night my students were very unresponsive! I was a little discouraged because they were so quiet. I assumed that it was because either they didn't understand or they were bored. Either way, I revamped my lesson plan and had much better results the second class. Thanks for sharing this article. It's great to have as much insight as possible. Especially since my students are not yet able to relate information to me in a way that I can understand. (I'm not bilingual.)
Information

| | |
| --- | --- |
| | Please register to leave comments. Registration is free and takes only a minute! |