36,779 views
by Claudia Pesce
The recent earthquake and tsunami in Japan has sparked concern and discussion in classrooms across the globe. And the ESL classroom is not an exception.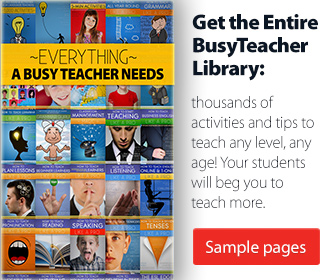 Natural disasters, catastrophes, and current events, in general, are great sources for speaking or reading tasks, and connect students with situations that are real, that may be affecting thousands of lives somewhere in the globe. Current events lessons also raise awareness of environmental issues, for example, or inform and educate students in a broader sense.
Needless to say, unless you're teaching highly-advanced students, you will not be able to simply cut out a newspaper article and read it to the class. News stories must be adjusted and adapted to your group's English reading or comprehension level. Still, taking the time to summarize a news article in fewer, easier words won't take you too long, plus you'll have the added benefit of using the vocabulary and structures you yourself have taught your students.
So, let's get started, and let's see how you should proceed once you have achieved a news piece that is suitable for your students' level.
How to Teach Current Events
1

Start with a warm up

You must set the mood for the topic - you can't just dive into the news piece, right? For example, if the news piece is about a natural disaster, such as a tsunami, earthquake, hurricane, or mud slide, introduce the topic and asks students to tell you what it is, where it takes place, what the consequences are, what causes it, etc…

You may also ask for predictions. Give them the headline and ask them to predict what the article is about. If the headline mentions the "Benefits of a Healthy Diet", ask them what they think these benefits are.

2

Pre-Reading/Listening Tasks

Some great pre-reading or listening tasks are:

True or False – Students may not know what is true and what is false - ask them to guess!
Synonym matching – Students guess and try to match the synonyms in two columns.
Sentence matching – Provide sentences that have been cut in half. Students try to match the beginning to the end of the sentence.

3

Reading/Listening Tasks

You may choose to either read the news piece out loud, or print copies for everyone to read. No matter what you choose, be sure to give them a task to complete. Some examples may be:

Gap-filling (with options)
Gap-filling (without options)
Multiple-choice questions
Sentence matching
And many others, but make sure tasks are more targeted towards reading/listening comprehension and not entirely open-ended.

4

Post-Reading/Listening Tasks

Some great activities or tasks for post-reading or listening are:

Whereas during the reading students were tested on their reading comprehension skills, in the post-reading they must somehow put everything they learned together, and hopefully produce something out of what they learned.
Use these steps and create engaging lessons out of any current event you think your students might find interesting. But, if you're short on time, we've got great news for you! There are websites that provide news stories that have been tailored specifically to the needs of English learners.
So, now you have no more excuses. We've provided you with everything you need to keep your students in the loop and informed on what's going on in the world they're living in.
And to remain informed on what's going on in the ESL world, be sure to check out BusyTeacher.org on a daily basis for your dose of teaching resources, tips, and advice.
Enjoyed this article and learned something? Please share it!
Want more teaching tips like this?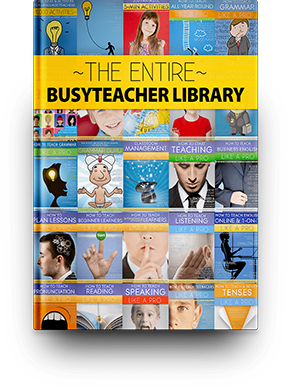 Get the Entire BusyTeacher Library
Warning: only if you're serious about teaching English.
Includes all 80 of our e-books (that's 4,036 pages in total), with thousands of practical activities and tips for your lessons. This collection will turn you into a pro at teaching English in a variety of areas, if you read and use it. Instant download, 30-day money back guarantee.
Show me sample pages →

Print
Rate this article:
was this article helpful?

Don't Give Up On The Newspaper Just Yet
6 Addictive Activities Using Today's News Headlines
0
6,090

0

In Tonight's Broadcast…8 Fun Ways to Use the News in Class
0
3,866

0

7 Great Places to Look for ESL Listening Material
0
84,328

0

Make It Your Business
7 Great Websites for Business English Students
0
10,922

0

Bringing The Classroom Together
How To Write a Class Newsletter
0
18,436

0

Top 10 Sources of Real Audio for Advanced ESL Learners
0
20,744

0
Subscribe to our weekly newsletter!