5 Most Creative Homework Assignments: Homework That Works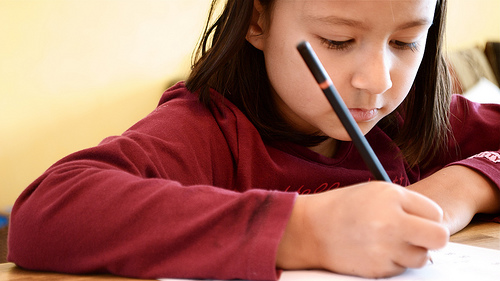 Most ESL teachers agree that homework assignments are an absolute must in an ESL course.
But ESL students, on the other hand, may disagree. Adult learners will argue that they have busy schedules and a life outside the classroom, which translates into "no time for homework". Young learners and teens may come to terms with the fact that they have to do homework, but do we want them to do it because they are compelled to do it... or do we want them to do it because they are excited to do it? Which would you prefer?
The only way to get young students excited about doing homework, and get adults to set aside some time for it, is through highly creative and thoroughly engaging homework assignments. And here are 5 examples:
Homework Assignments That Work
1

A Word Book

A Word Book or Vocabulary Journal is a classic among teachers of very young learners who are not adept at using dictionaries; here they have a chance to make their own. Help them design their very own Word Book from scratch, out of construction paper, cardboard, or any materials you have on hand. At the end of a reading task or activity, make a list of the words they have learned for the day. Their homework assignment is to enter each of the new words in their Word Book. The littlest ones simply copy the word and draw a picture of it; older students can use the word in a sentence that illustrates its meaning. There is no need to copy "dictionary" definitions. They may also cut out pictures from magazines or newspapers and get as creative as they like. But one thing is certain… these will be words they won't easily forget!

2

Do My Research!

This is an extremely engaging way to provide extended practice of any grammar point. Say you want your students to practice comparatives and superlatives. Tell them you need information on this year's Oscar nominations. Tell them to go to Oscar.go.com and give them a list of questions they must answer:

Which of the nominees for Best Picture is the longest film? Which is the shortest? The most popular? Earned the most money at the box office?
Which film has the most nominations?
Which in your opinion is the best film?
Compare two of the actresses nominated for Best Actress. Who is older? Younger? Taller? Prettier?
Etc…

You may assign any number of research tasks: ideal places for a family vacation (LonelyPlanet.com), best restaurants in the city (Zagat.com), or anything based on local information. Just make sure you give them a website to go to, a set of questions to answer or a task to complete, and above all don't forget to plan the assignment with a grammar point or learning objective in mind.

3

In the News

This is an ideal assignment for adult students. Most read the newspaper anyway, right? Or watch the evening news. Ask them to choose a news story that has piqued their interest, and have them:

Write a report on the news story
Write a dialogue in which a journalist interviews someone involved in the story.
Answer a question like, "What could have gone differently?", thus prompting them to use conditionals, for example (If the truck driver had not answered his cell phone, he would not have caused the accident.)

4

Email Writing

This is clearly one of the homework assignments that works best with adult learners or those who specifically study Business English. Give them an email to read and ask them to write an appropriate reply. Or give them a situation that would require them to compose a message, like a complaint over a bad service experience or an inquiry into vacation rentals.

5

Watch It!

Choose a TV series that is shown in English, either with or without subtitles (you may ask students to cover the subtitles). Choose a show that is suitable to your students' ages. Tell your students that their homework for that night will be to watch an episode of Modern Family, whether they usually watch the show or not. Give them a task to complete after viewing the episode: a synopsis of the episode, a character description, or a questionnaire (Do you usually watch this show? If not, would you start watching it? Why/why not?)
Another great way to get students actively engaged in their homework assignments is to ask them to come up with some ideas for creative assignments on their own and share them with the class. They may surprise you!
And if you're still stumped as to which worksheets to assign to practice grammar, vocabulary, or reading, BusyTeacher.org is always available to help, 24/7, with wonderful ideas for activities and great ready-to-print worksheets.
If you have any ideas for other wonderfully creative homework assignments, share them below!
Rate this article:
was this article helpful?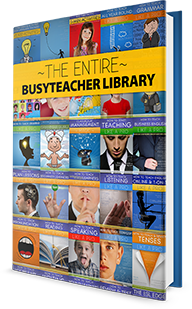 The Entire Busy Teacher Library:
61 current titles + all future titles (free!)
Truly, we might be a little bit crazy, but we know that at this point in the term, things are tight for teachers, and you need a little help, which makes it the right time for our best deal ever. For just $99, you will immediately receive all 61 of our current, bestselling titles. Within a few minutes, you'll have thousands of new BusyTeacher expert approved tips and tricks for teaching grammar, vocabulary, pronunciation, and students at every level from beginner to advanced.
Get it right now - limited time offer ›
Trending Articles right now:

Susiegee
said on 6 February 2013 22:38:
I am a volunteer TESOL teacher, working with disabled and disadvantaged adults in Ho Chi Minh City, Vietnam.

I am looking forward to trying some of these suggestions with my students, as they are at the stage where their thought patterns and their imagination need to be stretched. I particularly like the idea of using emails, as this also gives some of my students, who have difficulty writing, due to their disability, an easier field in which to work.

I believe that blogging is a great way for students to extend their use of the English language; it not only allows the students to keep track of their progress, but also allows me to assess the amount of work that they are doing in their free time.

Thank you, Busy Teacher, for providing constant and varied back-up.

Susiegee
HCMC, Vietnam

dutilonghi
said on 16 April 2012 20:34:
Students dont like homework. It has to be simple and not that difficult.They like matching and multiple choice questionnaires.

CarissaPeck
said on 10 December 2011 19:21:
Blog it! Have a class blog where students have to comment on your blog with a related article. For example, if we are discussing the pros and cons of having robots to a humans job in class I would ask students to find an article which supports their opinion and repost it to a blog with a brief summary of the article and how it supports their point of view.

Often when teaching grammar points I will ask my stduents to find a song and point out how it uses the transition words. For example, find a music video that you like. Write three sentences describing it. Make sure each sentence has a relative clause. Students (teenagers and young adults) like showing off their music so much they hardly think of it as school work, and keeping the english short (3-5 sentences compared to 20) makes it relatively painless.


Information

| | |
| --- | --- |
| | Please register to leave comments. Registration is free and takes only a minute! |