114,709 views
Claudia Pesce
Top 10 Christmas Songs for ESL Classes
In the northern hemisphere, there are lots who dream of a white Christmas, whereas in the south of the world the holiday season is best enjoyed by the pool while sipping cool drinks. No matter where we are in the world for the holidays, two things remain the same: we all look forward to getting together with family and friends, and we sing Christmas songs.
Some Christmas carols have become so popular and so well-loved, they've been translated to several languages, and are sung in countries where snow and hot chocolate have nothing to do with Christmas. For students of English as a second language, there are songs that are timeless classics, which should definitely be taught as another way to make students more familiar with English-speaking cultures.
Here are the Top 10 Christmas songs for ESL classes.
Here you'll find some classic, traditional carols and some modern favorites. We've provided some background information on each song, which you may share with your students, together with lyrics and some suggestions for activities.
How To Proceed
Some of these songs are great lead ins for discussion, others are simply fun to sing. Whether you make your own worksheets or use the ones we've provided, make sure you give your students plenty of new things to learn with these wonderful holiday classics!
Want more teaching tips like this?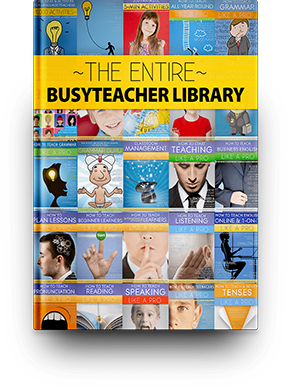 Get the Entire BusyTeacher Library
Instant download. Includes all 80 of our e-books, with thousands of practical activities and tips for your lessons. This collection can turn you into a pro at teaching English in a variety of areas, if you read and use it.
Click here to learn more
Enjoyed this article and learned something? Click the buttons below to share it!

Print
Rate this article:
was this article helpful?