Cambridge English: BusyTeacher's Detailed Review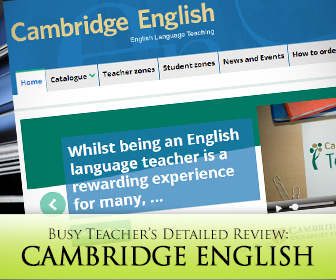 Cambridge English is the English Language Teaching arm of the renowned and prestigious UK Cambridge University.
The website incorporates Cambridge University Press and Cambridge English Language Assessment. Cambridge University Press is the publishing business of Cambridge University. Cambridge University Press was established in the 1530s, and today has in excess of 50 global offices and distributes products in almost every country. The stated aims are: "…. to further the University's objective of advanced learning, knowledge and research." Cambridge English Language Assessment states their aim as being: "To be the experts in language assessment: delivering excellence and innovation." The overall goal of Cambridge English describes itself as follows:
"Cambridge English is a unique approach to teaching, learning and assessing English, driven by world-class research and a profound commitment to delivering educational value for the benefit of learners, teachers, educational institutions, employers and society as a whole."
There is a site search, but this finds books and other publications that are available to buy. The English section is divided into Home, Catalogue, Teacher zones, Student zones, News and Events, How to order, About, Support and Contact us. At the top of the screen there is another menu bar with options for Academic, Journals, Cambridge English, Education, Bibles, Digital Products, About Us, Governance, Conference Venues, Rights and Permissions, Contact Us and Careers.
Clicking on the Home tab returns to the main page for Cambridge English, rather than the main page for the entire Cambridge University website, which is very convenient. The Catalogue tab is broken into three further options; Courses, Skills and Reference. Each sub-category is then further divided into easy to identify groups, including, for example, Adult Courses, Primary and Secondary under Courses, Exams, Grammar and Vocabulary and Reading under Skills, and Dictionaries, Multimedia and Photocopiable Resources under Reference. You can then find great resources to easily buy online. For each resource you can see the title and a concise description. Prices are displayed in UK pounds, and you can also easily see if the product is currently in stock.

Pros
1

Every Section is Clearly Broken Down into Easy to Identify Sections

Browsing through the site you will see that every area is very clearly marked. For example, if you click on Teacher zones, then on the Adult link, you will see numerous options down the left hand side of the screen. These options are:

Adult home
View all resource types
English Unlimited and English Vocabulary Profile
RSS feeds
English Unlimited and English Profile wordlists
Business English Certificate (BEC)
Business Language Testing Services (BULATS)
Certificate in Advanced English (CAE)
First Certificate in English (FCE)
International English Language Teaching System (IELTS)
Activities
Apparatus
Arcade
Articles
Bilingual wordlists
Games
Infoquest
Multimedia
Lesson plans
Monolingual wordlists
Pedagogy
Podcasts
Presentational
Teacher development
Teaching materials
Test
Teaching tips
Transcripts
Vocabulary practice
Worksheets

There are many choices within every section. Even though the amount of material and options can look a little overwhelming at first, the great organization makes it easy to find what you are looking for.

2

There are Free Sample Worksheets in the Teacher Zones

As well as resources that you can buy, you will also find free sample worksheets and activities throughout the Teacher zones section of the site. Some require registration, whereas others are open access, and you can filter results accordingly. You can look in every relevant section to find them, which can be time-consuming although once you have them you can use them in your classes. It never hurts to have extra resources easily at hand saved on your computer! Alternatively, the dedicated worksheets section lists all available worksheets. In the Adult section of the teacher zone there are over 550 open access worksheets available, covering a wide range of topics. Within the ESP section, not only are a great many professions covered, including law, computing, marketing, aviation and medicine, but there are also over 150 resources listed as open access under worksheets. Under Primary, there are 33 things listed under worksheets, and under Secondary there are 1424 worksheets.

3

There are Great Free Lesson Plans

I browsed through the different sections looking at the lesson plans, and in my opinion these plans are excellent. They have surely saved teachers lots of time in the past, and will certainly save even more teachers time in the future. There are numerous free lesson plans in the various categories contained within pdf documents. All have step by step instructions of what to do during the class as well as clearly stated aims of the lesson. Although you must go into each section to find the relevant lesson plans, for a few extra mouse clicks it is really worth it. For example, for Secondary learners I found over 200 ideas for lessons, within the Reading and Writing section there are 173 lesson plans, and when I looked at Vocabulary there were 51 lesson plans.

4

There are Great Tips for Teachers on Various Different Topics

I always think it is very useful to be able to read tips provided by people doing the same job as me, and this site does not disappoint in this respect. There are many handy tips to help you when you are feeling unsure, challenged or perhaps a little bit disheartened. Whilst there is no central section for all tips, they are easily found within the different sub-sections. I wanted to view the teaching tips for Pronunciation, Listening and Speaking, and was delighted to find very useful pdf files containing common pronunciation errors made by speakers of specific languages when learning English. Languages represented included Turkish, Hebrew, Thai and Lao, Spanish, French, Dutch, Korean, Farsi, Japanese and many more. You must be registered however to be able to view these open access files.

5

Registration is Free

Although many resources are available without registration, free registration gives you access to many more fantastic free resources. You also have the option to sign up for alerts from the website. The registration process is quick and convenient; it took me less than two minutes to complete.

6

There are Many Resources for Students as well as for Teachers

Within the Student zones, ESL learners have a wide range of resources available to them, all contained within very clear and easy to use categories. Within the different sections students may find activities focused around specific topics, games, interactive sections, tests, audio clips and more. I think this section is great for learners, and as teachers we could signpost students to this website. Also, I think it would be a great place to look for further inspiration and ideas when planning lessons and activities. You may even set tasks from the Student zones as homework.

7

There is Good Support

In the Support section you will find Apps for mobile devices, software for both PCs and Macs, and links to other useful Cambridge University Websites.

Cons
1

The Volume of Information May be Overwhelming

Whilst the main benefit of Cambridge English is the amount of excellent information and resources available, this may also be a big drawback for someone when first starting to use the site. It is possible you may find it time-consuming to begin with to sift through all the sections. That said, the fantastic organization of the site should make this easier.

2

There are no Links to Other Useful ESL Websites

The only links that I could find were to other Cambridge University sites. There does not seem to be any attempt to mention other possible useful ESL, or English teaching in general, resources or websites that are not affiliated in some way with the university.

3

There is Very Much a Commercial Focus

Although there are many excellent free resources, I cannot help but feel that the main drive of the website is commercial, with a goal to sell products and services.

4

There is no Ability to Comment on or Rate Resources

As far as I could tell, people are not able to comment on the materials on the site and share their opinions with others, which I feel is often really useful. There is no facility for teachers to interact or communicate with one another.
In summary, I found this a very organized and professional website, with many useful and practical things that I could use in the classroom. I like very much that there are materials for both teachers and students. I would like to see links to other ESL websites, but, for me, this is not such a big thing when looking at all the things that the site provides for free. Although you must be registered to access some areas, registration is free. The resources that you can buy are of the very highest standards and quality. Overall, I would rate this site very highly, and would thoroughly and unreservedly recommend it to fellow teachers. I think you will find it as useful as I did.
How would you rate Cambridge English?
Have you bought many of their resources, and how do you find the free materials work in your classrooms? Share your experiences with fellow teachers.
This is a guest review by an independent author. This review reflects the opinions of the author and not necessarily those of BusyTeacher.org as a publication.
We post stuff just like this every day on Facebook.
Like us. You won't regret it.
Rate this article:
was this article helpful?