Teachingenglish.org.uk: BusyTeacher's Detailed Review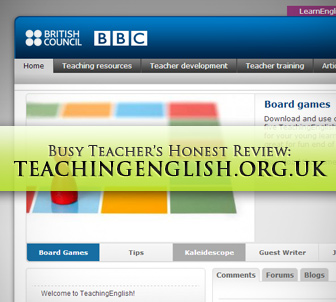 The Teaching English website is one of the best out there for English as a Second and Foreign Language teachers.
Teachingenglish.org.uk is extensive, thorough, professional, and generally all-encompassing. It's one of the few websites that truly has everything a teacher needs for the classroom, and I highly recommend it. The overview and welcome provided on the site explains that "across the site you can find free classroom materials to download, from short activities to full lesson plans, for teaching kids and adults. There are also articles on aspects of teaching, and free teacher development and teacher training materials." Registration on the site is optional, and gives users the opportunity to participate in discussions, blogs. And receive a newsletter. The site also has an active Facebook community that makes it even easier to stay current. These resources are excellent ways to engage in professional dialogue with other teachers and to share tips on techniques and materials. All in all, it's a wonderful place to find support, especially for those teachers who might be rather isolated in EFL contexts abroad or first-time teachers. The administrators of the site welcome feedback and suggestions to improve the user experience. If there is something missing, they are open to discovering how to include it. In particular, this site is a superb resource for CELTA certified teachers or those in training, as it is connected to the BBC. While it may be slightly less useful for American-English based teachers, there really is something for everyone and anyone on this website.
For teachers who are looking for resources tailored to student use, and in particular, younger learners, it's easy to access links to the following sister sites: Learn English, Learn English Teens, Learn English Kids.
This site has some amazing tools for teachers for the classroom and for professional development, including a flashcard maker, a word family framework, a phonemic chart, posters, a database for teachers, opportunities for teacher self-reflection, and board games.
Teaching English has some amazing "tools for teachers" for the classroom and for professional development, including a flashcard maker, a word family framework, a phonemic chart, posters, a database for teachers, opportunities for teacher self-reflection, and board games.
One of the greatest things about the website is the content for teaching training. There are three types of learning opportunities offered for teachers online: Self-access workshops, self-access courses, and moderated courses. Participants must already be working teachers. A continuing-development framework helps teachers to evaluate their own skills in order to determine which offerings would be most useful and appropriate. At the end of each course, participants earn a certificate of completion. Another nice thing about these classes are the small class sizes: they are capped at 20, which maximizes the attention each student in the course can receive. More information about these courses can be found here.
There is another section of the website further devoted to "teacher development". Teaching English explains that these pages "have teacher development materials to provide guidance and ideas for teachers at different stages of their career." They recommend using the Continuing Professional Development Framework" on a regular basis. Here, teachers can find publications, news, and conference materials.
One final component of the website worth highlighting is the collection of "Community Resources" available for teachers. In this section, practicing teachers can access blogs, forums, and networks, polls, and join video discussions.

PROS:
1

Simply the best

There are really only good things to say about the Teaching English website. BBS and The British Council have done a fantastic job of providing the ultimate resource for teachers of English as a Second and Foreign Language. Likewise, their sister sites intended for use by ESL and EFL students are equally impressive. The layout and design of the site couldn't be more polished, and users will find it's a breeze to zip around the many sections on this webpage. The user-friendly experience of navigation is matched in excellence when it comes to the quality of the content teachers will find when visiting this site.

CONS:
1

British English based site

It's very difficult to find anything lacking about the Teaching English site, but there is a potential issue for American English teachers using these resources, as it intended for use by certified CELTA teachers. This is certainly not a major problem, and should not deter teachers from accessing the multitude of excellent classroom materials, teaching suggestions, and professional development resources available through this site.
All in all, I couldn't be more pleased with what's available on the Teaching English website.
I hope all teachers will bookmark this resource for easy access, as it truly does have everything one could need to be equipped to deliver excellent instruction to their ESL and EFL students. The teaching resources like the community development portion of the site, the online courses and workshops, and the "tools for teachers" are expertly created and delivered. This is a one-stop shop for reliable and practical classroom method, materials, and opportunities to grow as a teacher.
This is a guest review by an independent author. This review reflects the opinions of the author and not necessarily those of BusyTeacher.org as a publication.
We post stuff just like this every day on Facebook.
Like us. You won't regret it.
Rate this article:
was this article helpful?