Eslpartyland.com: BusyTeacher's Detailed Review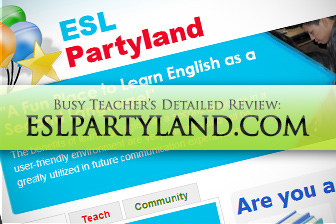 ESL Party Land is one of the best sites available for English as a Second or Foreign Language Teachers.
As the website says, "the pages at ESL Party Land are designed to provide you with the resources and connections you need to become a better ESL teacher. You'll find loads of ideas and printable materials to use in class, discussion forums, and employment opportunities". This is a great site for teachers with limited preparation time, those who are seeking fresh ideas and new lessons, and especially for new teachers with limited resources.

Here are some of the great categories available on the site:
Teaching Conversation
Teaching with Film and Video
Teaching with the Internet
Teaching with Music
Teaching Grammar
Teaching Listening and Speaking
Teaching Reading, Writing, and Vocabulary
Teaching Integrated Skills
The focus of the materials is a communicative one, which, as experienced teachers know, really is the fastest and most productive approach we as teachers can take to teaching our students. I especially love the ideas found on the site for incorporating music and film into lessons. The lessons for music have song lyrics, and handouts for popular American artists like the Eagles, Madonna, U2, Led Zepplin, and Elvis Presley available here.
Teachers interested in bringing American film into the classroom can find great lessons, movie clips, and printable worksheets here. Some of the films included are "Bonnie and Clyde", "Dead Man Walking". This is a great way to bring culture into the classroom, as well, and my students always enjoy these activities.
It makes my lesson planning go much more smoothly, and saves me quite a bit of time.
Also, as a big fan of teaching integrating skills, I appreciate that there are materials available to do just that. It makes my lesson planning go much more smoothly, and saves me quite a bit of time. The resources for integrated skills are theme-based and centered around topics like travel shopping, news, current events, and natural disasters. Even if teachers are not looking for an integrated lesson, it's possible to select materials from these resources.
For new teaching or those looking to improve their techniques, there is great information on ESL Party Land about strategy. There are links to various websites that teachers can access to address certain teaching points.
Ready-made Quizzes and games provide an easy way for teachers to quickly plan a lesson. Resources in this section are clearly indexed by form and levels, making it easy for teachers to find whatever they need in a pinch. There are materials for Idioms, Phrasal Verbs, TOEFL, Business English, Reading, Trivia, Vocabulary among others.
In addition to the great wealth of lessons and materials for teachers, students will also find that this a great website to use. Learners can visit the guide to learning ESL to improve their strategies in and out of the classroom. Teachers may want to direct students to this link to help them get the most out of their learning experience.

PROS:
1

Perfect for new teachers and those abroad with limited access to resources

Instructors who are working with limited materials will be happy to find ESL Party Land. Many of my colleagues swear by this site, and most of us have relied on it at one time or another, especially when limited time is available to prepare a lesson.

2

Clear division of sections for teachers and students

One of the challenging things about using some ESL or EFL websites is that users are left to sift through materials to suit their needs. This is not the case with ESL Party Land, which is a well-organized site. Students can go straight to relevant practice materials, and teachers can easily begin their lesson planning using the resources on ESL Party Land. This saves time.

3

Created and maintained by experts

Karin M. Cintron started the site in 1999. Over the years it has evolved to better serve the needs of teachers, and it is currently edited by Holly Rowlands, and experienced ESL professional at Florida Atlantic University. As we know, the best teacher resources are created for teachers, by teachers. ESL Party Land is definitely full of great material, and it is clearly well-maintained and updated often.

4

No membership necessary

So many sites require users to give away their email addresses and go through the hassle of creating user names and passwords to log on. Even when a site is free, this can be a barrier to easily accessing the materials you want. The nice thing about ESL Party Land is that not only is it free for both instructors and students, but everything on the site is easily accessed without any special credentials, making it a great place for both to visit.

CONS:
1

No forums

ESL Party Land has a chat feature available, but it seems to be used primarily by students. Given the great resources available on the site, it would be great for teachers to have a direct place, like a forum or a discussion section to discuss ideas and share their experiences. This would be my only suggestion to improve the site. In all other ways, it really is excellent.
ESL Party Land is a fabulous website for English as a Second or Foreign Language.
This should be the first stop for every new teacher. In no time, users will have found great ideas for lessons and many materials that are ready for use. Additionally, eager students can use this site to improve their skills. It's comprehensive and creative, and the materials are great quality. Certainly there are others out there who rely on ESL Party Land for materials creation. Who else is as crazy about this website as I am?
This is a guest review by an independent author. This review reflects the opinions of the author and not necessarily those of BusyTeacher.org as a publication.
We post stuff just like this every day on Facebook.
Like us. You won't regret it.
Rate this article:
was this article helpful?