Onestopenglish.com: BusyTeacher's Detailed Review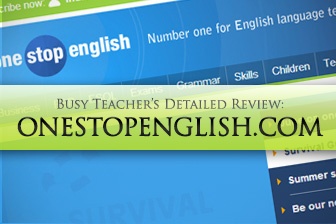 Onestopenglish describes itself as being "Number one for English language teachers."
The site contains over 8,000 resources, including worksheets, lesson plans, audio, flashcards and video, all broken down into easily identifiable categories. The tabs at the top of the screen are for sections entitled Business, ESP, ESOL, Exams, Grammar, Skills, Children, Teenagers, CLIL, Support, Games, Community, and Jobs. The core subject areas are easily split. Materials are available for different student age groups and ability levels. There is a site search facility, which makes it even easier to locate relevant materials to use in the classroom. Onestopenglish is published by Macmillan Education. Macmillan Education is one of the leading publishers of English language teaching materials. Resources and materials are created and provided by very experienced teachers and authors.
The basic site is free to use, although there are options to register and subscribe. Subscription costs £42 per year, and gives access to the whole range of resources, weekly news lessons, access to new weekly resources, audio and podcasts, and more. Subscriptions are available for individuals and institutions and there is a good range of online payment methods. Registration is free and enables you to comment on resources, post and comment in the forum and similar. The site is professional looking and I found it very comprehensive and easy to use.

Pros
1

No External Advertising

Being part of a leading publishing company, there are no distracting or annoying advertisements on Onestopenglish.

2

Secure Payment Methods

As well as offering the facility to pay for subscriptions online by credit and debit card, there is also the option to pay by PayPal.

3

Materials are Standalone and Require no Further Preparation

All materials, including those that can be freely accessed, can be transported straight into the classroom. Many are appropriate for use in a group or for one-on-one tuition sessions. Once you have located an appropriate resource, there is no need for further planning. They all come with clear and easy to follow step by step teaching notes and all worksheets or other materials needed to complete the lesson. This is great for busy teachers. To make it even easier, all resources are clearly labelled by age and level.

4

Resources are Easy to Find

There is a wealth of material, which is clearly marked and divided.

Within each category there are further detailed sub-categories, meaning that you can quickly find what you are looking for. For example, I clicked on the Business tab, and saw options for business skills bank, with further options for materials on telephoning, numbers, presentations, emailing, meetings and more, business spotlight, including materials on making a start, the future and the case against self-employment, business tasks, with the break-down including decisions, notes and messaging, work and responsibilities, studying and learning, teaching approaches, with a great selection of materials geared towards helping you with different techniques when teaching business English, business basics, which is specifically aimed at elementary level business English learners, business top trumps, with games and other fun activities, a section called working language, which includes materials that use everyday business English language, and business English extra, where you can find suggestions of other resources across the whole site that may come in useful in your business English lessons. There is a wealth of material, which is clearly marked and divided. Each section is the same; as further examples, under ESP (English for Specific Purpose) you will find quality materials on banking and finance, hospitality and tourism, human resources, law, marketing, nursing, other professions and more ESP, and under skills you will find resources designed to help develop all areas of a students' linguistic ability – listening, reading, pronunciation, news lessons, vocabulary, speaking, writing, and integrated skills.

5

Materials are in British English and American English

The site acknowledges the differences between the two main branches of English and helps teachers to teach these differences.

6

Excellent teacher support

From tips and guidance to articles and technological tools, you can find almost everything imaginable on this website to aid your professional development as an English teacher. There is a section where you can ask specific questions to experienced teachers. I really like the section on Minimal Resources. It delivers just what it says on the tin: "Monday morning? No coursebooks? Broken photocopier? Your favourite onestopenglish writers have come to the rescue with a section which is jam-packed with tips and ideas for teaching English with minimal or no resources." This is simply perfect for those moments when you find yourself panicking about what to do!

7

Jobs Advice and Search

A filtered search means you can enter details such as keywords, region, country and categories to only view jobs that you would be actually interested in. You can search in one area then further filter. There could be more jobs listed, however. Job seekers may benefit from tips relating to creating CVs.

8

Teacher Diaries and Other Personal Accounts

The section on teacher diaries can be invaluable for new teachers who may be feeling a bit insecure. I think it often helps to be able to see the experiences of other teachers, and know that whatever situation you are facing, or challenges you are trying to overcome, you are not alone, and that there are ways to resolve problems. It is also useful and interesting for more experienced teachers also. Anecdotes are amusing as well as useful.

9

Chances to be Published

On the site there are sections for people wanting to share lesson ideas and also submit proposals to recognised publishers.

q

Social Applications

A well used forum allows you to talk with other teachers, gain different perspectives and ideas and generally just bounce ideas around and share funny tales. Although you have to register to use the forum, registration is free. There are thousands of registered users, making a really big community of teachers. There are blogs you can read and competitions you can enter.

Cons
1

No Links to Other ESL Sites

I could not find links to other ESL websites. Whilst alone this is a great site for teachers, I think it would be useful to share links to other pages to enable teachers to access even more resources and have a wider range of options to choose from.

2

You Must Pay for Many of the Resources

Understandably for a site of such calibre, many resources and materials are only available for paying subscribed members. Each section does contain samples, however, which not only provide a taster for what you will get if you subscribe but are also very useful on their own. There are great resources available for free users, it is just a shame that there are so many that you must pay for.

3

Registration is Needed to Comment and Access Some Areas

Perhaps a minor inconvenience rather than a negative, if you want to use some site features you will need to register first. Registration is free though, and after registering once you will be able to login whenever you want.

4

Not Many Jobs

The job search facility does not yield many results. I searched for Thailand, where I currently live, and there was not a single job listed. When I look at other job search sites though, there are plenty. I also performed some arbitrary searches; a simple country search for Saudi Arabia returned only three results, the country Japan returned no results, searching for jobs in Russia produced no results, an open country search under the category of Business English / ESP returned no results and the category Summer School Teacher returned two results. I then tried an open search with no filtering, to find all jobs in any category in any location; there were ten jobs available to view.
With many positive aspects and very few negative elements, in my opinion this is one of the best ESL sites for teachers. I did not register or subscribe, but having looked around the site in detail, if I were going to pay to access additional materials on any ESL website, I would certainly consider this site. I think the free resources are terrific, and I love the fact that there are many lesson plans and materials that can be used exactly as they are, with no extra time, planning or further materials needed. Anything that makes my life easier as a teacher I am a huge fan of, and this site will certainly be beneficial to me in my work. I think you will also find it incredibly useful and it will save you a lot of time. Another major convenience is that the sight is super-organised. The efficiency and organisation makes it very easy for you to find what you are looking for with the minimal amount of time. The accurate site search facility is a big plus point, as it makes it even more straight-forward and hassle-free to find relevant things. I feel the only section that lets the site down is the job search facility. There are not many jobs listed. To improve, I think Onestopenglish should either try to encourage recruiters to post jobs, or should provide links to other ESL job search websites.
What are your thoughts on Onestopenglish?
Do you agree that the materials are thorough and comprehensive? What parts of the site do you like best and why?
This is a guest review by an independent author. This review reflects the opinions of the author and not necessarily those of BusyTeacher.org as a publication.
We post stuff just like this every day on Facebook.
Like us. You won't regret it.
Rate this article:
was this article helpful?