What You Can Do With a Whiteboard: 10 Creative ESL Games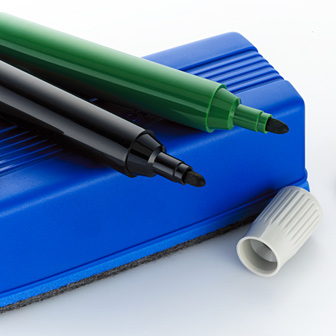 With all of the technology we have at our fingertips and information that travels at lightning speed on the Internet, it's nice to go back to basic tools like our trusty whiteboard.
We examined the chalkboard vs. whiteboard dilemma in our article, Whiteboard Markers – Stinking Monsters or Life Savers? and yes, we agree that whiteboard markers have their weak points, but one of the advantages is that you can use them to play some great, fun ESL games with your students.
How You Can Use A Whiteboard: 10 ESL Games
1

Jeopardy

Based on the classic TV game show, this game will require your students to put on their thinking caps. Divide your whiteboard into columns for vocabulary categories and rows with different point values. Like this:


Divide your students into two teams. Each team chooses a category and the points they want to play for: We choose Countries for 25 points. Supply a clue or definition: This country is south of the US, and they eat tacos there. They must guess the right country in the form of a question: What is Mexico? If they answer correctly you erase the points from the chart and add them to the team's tally until they're all wiped off. Adapt this game to any level of difficulty and include as many categories as you wish.

2

Suction Cup Ball

Buy one (or several!) inexpensive suction cup balls, and your whiteboard games will never be the same! These balls are made up of several tiny suction cups that stick to whiteboards. There are many games you can play - as many as your imagination will allow- but here are two:

- Draw a target with concentric circles on the whiteboard, each with a different point value. Quiz students and if they give you the right answer they get to throw the ball for points.

- Fill your whiteboard with letters or syllables and each student has to supply a word that starts with the letter or syllable they hit.

3

Pictionary

This is a classic and one that may easily be adapted to any level. Students are split into two teams and they take turns drawing words, actions, or situations that they have drawn from a pile of cards. Teammates guess what is being drawn.

4

Hangman

Another popular game that may be adapted to your needs. Play the classic game where students have to guess a word, or a more sophisticated version where they have to guess entire phrases, expressions, movie or book titles.

5

Tic Tac Toe

Too simple? Not really. Make it as challenging as you like. Say you want your students to practice the simple past tense. Draw a 3 by 3 grid on the whiteboard. Write a sentence in each square, with a gap where the verb should go. Write a list of 10 verbs on the side (one of them won't be used). They must supply the right form of the verb to complete the sentence till one of the teams gets a Tic Tac Toe. Try it with any gap-filling exercise! And expand the 9-square grid to a bigger 16 or 25-square grid as suggested in this Tic Tac Toe worksheet.

6

Hot Seat

Place one student in the hot seat, in front of the whiteboard, with his or her back to it. You and another student stand behind the student in the hot seat. Write a word, movie, or book that the student must describe for the other to guess.

7

Earthquake

Draw a 5 by 5 grid on the whiteboard and label each column from A to E and each row 1 to 5. Each team chooses a square, say "A5"; you ask a question you have previously prepared. Before starting the game choose three squares that won't have any questions, and when a team chooses one of these, tell them an earthquake has just swallowed up some of their points–deduct 5 points.

8

Barnyard Dash

The goal is for students to identify a barnyard animal from the sound it makes. Depending on your students' level, you can either draw the pictures of animals on the board or write the words for each. Give each team a different color marker and have them line up. Make the sound yourself, i.e. crow like a rooster, or have a CD ready with animal sounds. As they hear each sound, students race to the board and circle the right word or picture. You can adapt this game to all types of sounds, like a phone ringing, a car honking a horn, or someone sneezing. You may also record expressions or phrases that they have to circle on the board, like "Thanks!" and "You're welcome".

9

Writing Race

This game is similar to the race mentioned above but in this case students race to the board to write a letter, a word, or a complete answer to a question. You can have each student write the complete answer or play it like a relay race where each student in the team only writes one word, then races to pass the marker to a teammate who must write the next one, and so on.

10

Backs to the Board

Great for practicing numbers, especially those tricky ones like 16 and 60, 13 and 30, etc…Write several numbers on the board. Give each team a different color marker. Have students stand with their backs to board. Call out a number. Students turn, try to find the number and circle it. At the end of the game, tally up the scores by counting the different color circles.
Have fun playing these games with your students! And if you have any to suggest, then by all means, do so below!
Rate this article:
was this article helpful?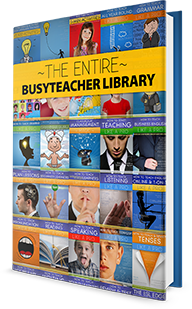 The Entire Busy Teacher Library:
61 current titles + all future titles (free!)
Truly, we might be a little bit crazy, but we know that at this point in the term, things are tight for teachers, and you need a little help, which makes it the right time for our best deal ever. For just $99, you will immediately receive all 61 of our current, bestselling titles. Within a few minutes, you'll have thousands of new BusyTeacher expert approved tips and tricks for teaching grammar, vocabulary, pronunciation, and students at every level from beginner to advanced.
Get it right now - limited time offer ›
Trending Articles right now:

mika1103
said on 19 February 2014 12:49:
Wonderful tips. Thank you so much for sharing!

sonya.ag.9
said on 11 February 2014 17:23:
Fantastic!!!!!!

Zaban
said on 13 December 2013 19:16:
Got lots of games. Share with you all the right time . Thanks for nice work!

shaniceK
said on 19 November 2013 05:14:
Thanks Claudia. They are wonderful games :-)

Marreyes
said on 19 September 2013 22:38:
What interesting games congratz ;), very useful.


Fred27
said on 7 July 2013 21:56:
Great games thank you


jessemaria
said on 13 April 2013 14:52:
These games are great and not complicated, thanks for sharing.
I'll probably start teaching at a school and I'm sure they will be very useful.

istif
said on 26 September 2012 01:22:
I play Hangman, but to make it less horrible and more fun, I draw a staircase with a student stick figure at the top, and a shark full of teeth, or a crab with big pincers, at the bottom. For each wrong letter the stick figure moves down one step. Students love it, and it isn't so intimidating as actually hanging someone!

brence
said on 18 February 2012 09:30:
I play a game I call the "Letter Race". Its a spelling activity and easy to setup. Get 2 or more teams lined up in front of the whiteboard. Give each team a marker. Give the person who is last in line the marker. The teacher says a word, like "elephant". This person must run to the whiteboard and write thr first letter on the board. The student then rolls the marker between the legs of the students on their team until it reaches the last person in line, who then will run to the whiteboard to write the second letter. Continue until u have a winner. If a letter is wrong, the person must erase it. They can not change it!! Have fun. It also goes well with teens!! P.S leave some space it front of the board.
Information

| | |
| --- | --- |
| | Please register to leave comments. Registration is free and takes only a minute! |