Pronunciation 101: 7 Things Your Students Need to Hear You Explain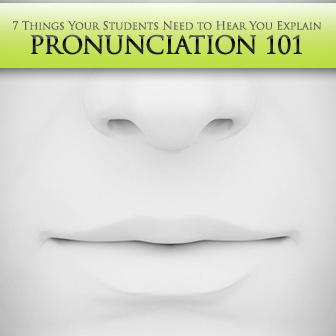 Bad pronunciation is bad news for ESL students. It negatively affects comprehension and so, negatively impacts on communication.
The problem is compounded by the fact that good pronunciation is often a mystery to ESL students. Why is it that some words with a similar spelling sound the same but others are completely different? Why are some words pronounced exactly the same in their native language but others are not? Mysteries are not good. Here are some of the things you need to explain to your ESL students to take the mystery out of English pronunciation.

7 Things You Need to Explain to Your Students about English Pronunciation:
There is no mystery to correct English pronunciation – not when you explain these basic concepts to your students.
Once you do, they will be better armed to understand the differences between their native language and the one they are trying to learn.
If you have any other essential pronunciation concepts to add to the list, please do so below!
Rate this article:
was this article helpful?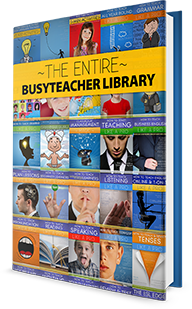 The Entire Busy Teacher Library:
61 current titles + all future titles (free!)
Truly, we might be a little bit crazy, but we know that at this point in the term, things are tight for teachers, and you need a little help, which makes it the right time for our best deal ever. For just $99, you will immediately receive all 61 of our current, bestselling titles. Within a few minutes, you'll have thousands of new BusyTeacher expert approved tips and tricks for teaching grammar, vocabulary, pronunciation, and students at every level from beginner to advanced.
Get it right now - limited time offer ›
Trending Articles right now:

ClaudiaPesce
said on 22 August 2013 18:51:
abyfield,

You're right. I've met people who've achieved wonders in terms of pronunciation. Not the case of MOST of the students I've encountered, but you're right to say it's not impossible and should not be said about everyone. Thanks for pointing that out!

abyfield
said on 11 July 2013 21:14:
This is a good article. I disagree with this statement: a foreign accent in an adult will never be completely eliminated. I think a lot of people agreee with the author and for many non-native adult speakers it is true, but to say it about eveyone is just silly.

ClaudiaPesce
said on 28 February 2013 20:01:
Glad you liked the article! :)

ER.LA
said on 28 February 2013 17:52:
It's just woooooooooooooooooow


sokell
said on 27 February 2013 21:32:
All things i tell my students,but a useful concise summary.

sheilak
said on 27 February 2013 12:20:
Sums up the problems of teaching pronunciation nicely!
Information

| | |
| --- | --- |
| | Please register to leave comments. Registration is free and takes only a minute! |