<!– google_ad_section_start –>Song Worksheet: Imagine by John Lennon<!– google_ad_section_end –>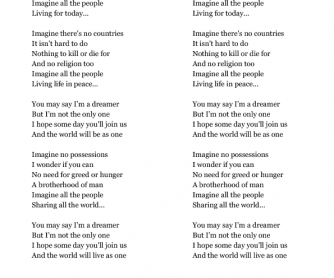 I find this song really meaningful and the words are not too difficult for my students so I made an exercise with it. There are three worksheets all together, all are blank-fill exercises. The first worksheet is the easiest; students fill in the blanks with the rhyming words. The second one focuses mainly on verbs and the third one focuses on nouns. You can choose the worksheet that is most suitable for your students, or you can decide which words to leave out and type a new worksheet. (The first page contains the full lyrics.)
I have chosen three videos to go with the music. The first video has beautiful pictures that harmonize with the words, the second one features John Lennon and the Beatles, and the third one has just lyrics. Enjoy!
Similar Worksheets