Trending Articles right now:
No, Itís Not Arbitrary and Does Make Sense: Teaching the English Punctuation System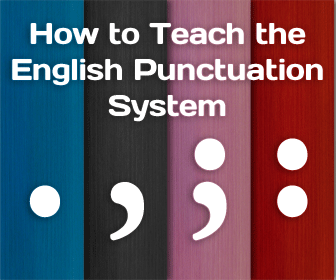 Did you know that you put in a comma in your writing whenever you take a breath? (I assume that means while reading aloud.) How about a period? Well, I guess that's a deeper breath.
You might also try putting a period at the end of a "thought." And what about semi-colons and colons? Well…maybe those are for exceptionally long breaths and thoughts? Okay, I guess you can see that these are no official "Struck and White" rules about usage but rather the kind of myths about standard punctuation that are perpetuated, sometimes by educators, I'm afraid. Add to this the concern that writers, such as novelist and poets, often employ their own creative punctuation: for example, poet e.e. cummings wrote in all lower-case; popular novelist Stephen King, a former English teacher, writes long, run-on sentences to indicate stream-of-consciousness thought. So by the time students come onto a college campus, they're often under the impression that punctuation doesn't matter, or is arbitrary, and makes no sense—sometimes all three. Teaching students standard punctuation is usually a semester-long odyssey that involves first disabusing them of "punctuation myths" they have been exposed to.

How to Teach Standard Punctuation
1

Attack the Old Belief

I'll stop short of saying telling students "Forget everything you learned before about punctuation," but I think a good starting place is finding out what students already know. I take a quick inventory, "What does a comma do?"or "Who knows what a semi-colon does?" Students' answers rarely involve dependent and independent clauses but rather breaths and thoughts and other unquantifiable items. I'll then ask "So how much of a breath before I write a comma? A short one or long one? Or do both get commas after?" Student laughter indicates that they are starting to see how nebulous these "rules" are.

2

Take a Survey

Another way of exposing these past beliefs on punctuation is to have students take a short questionnaire, with questions like the following, mixing in actual punctuation rules with the myths.

| | | | |
| --- | --- | --- | --- |
| 1. | You write a comma when you take a breath. | T | F |
| 2. | You write a colon before a list. | T | F |
| 3. | You write a period after a thought. | T | F |
| 4. | A letter S should always have an apostrophe before it. | T | F |
| 5. | A period should be written after an independent clause. | T | F |
| 6. | "Mother" and other important words should always be capitalized. | T | F |

Seeing their beliefs on punctuation "exposed" in black and white print sometimes gets students laughing, which is good because it shows they understand the silliness of the rules they were taught in the past--with all good intention, probably: it's much easier to talk to a third grader about breaths than about clauses.

Going over these myths can also give students a good laugh, not a bad thing when discussing the dry topic of punctuation.

3

Teach Students Basic Sentence Structure

Students can't really understand punctuation without understanding basic sentence structure because punctuation connects different parts of the English sentence.

Sentence: A simple sentence is also known as an independent clause. It has a subject, verb, and a complete idea: for example, I drive. This is an acceptable English sentence with a subject (I), a verb (drive) and a complete idea, I drive, meaning I drive every day or habitually; I know how to drive, etc.

Dependent clause: Must be attached to an independent clause for correctness. It has a subject and a verb but is not a complete idea. Because I drive This is not a complete sentence but a dependent clause, and if a student puts a period after it, I will mark it (F) for fragment.

Dependent clauses need to be attached to independent clauses with a comma after if the dependent clause is first

Because I drive, I have car insurance.

or no comma if the dependent clause is second

I have car insurance because I drive.

I also teach run-ons at this point as the running together of two or more independent clauses without the correct punctuation:

I drive I have a car and I like it a lot

Working with the students, I revise the above sentences with periods and commas:

I drive. I have a car, and I like it a lot.

Or even, if some students know the semi-colon:

I drive; I have a car, and I like it a lot.

4

Teach the System

Now that some basic sentence structure has been discussed, and students have some understanding of it, punctuation can be delved into more deeply. I usually give a handout of the punctuation mark, a name, a definition and what the mark does, and an example of its use. Introducing punctuation this way emphasizes that it is a system with logical and consistent rules.

5

Punctuation Marks

, =comma. Separates two independent clauses with a conjunction or separates items in a list

I have studied on this campus for three years, and I have learned a lot.

This semester I am taking Spanish, Algebra, and English.

; =semi-colon. Separates two independent clauses

I have taught here for ten years; I like the campus very much.

: =colon. Placed after an independent clause and before a list

On the day of the final, please bring with you the following items: a pen, a pencil, an eraser, and an exam book.

. =period. Placed at the end of a sentence

Danielle is returning to France for the winter break.

By seeing the major punctuation marks, with their names and a brief definition, students begin to understand it is a system that makes sense.

Follow up activities can include reading a few paragraphs out of the course textbook and discussing punctuation decisions the writer made; proofreading a sample paper as an exercise, focusing on the punctuation, and then moving on to proofread their own and their peers' work.
Do you teach punctuation? How do you teach it?
Rate this article:
was this article helpful?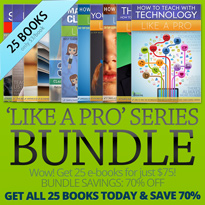 Get 25 'Like a Pro' ESL E-books at 70% OFF!
Don't miss this unique opportunity to get the complete 'Like a Pro' series (twenty-five phenomenally popular ESL best-sellers) at only $3/book. Unbeatably priced, this Bundle literally saves you hundreds of dollars and fits your budget just right!
Get all 25 e-books right now õ

toni7467
said on 24 December 2012 00:59:
It's Strunk and White...not Struck and White :)

meridithb
said on 30 August 2012 23:49:
I just learned recently that the old rule about skipping two spaces after a period when typing is antiquated. It was important with the use of the standard typewriter since all letters were equally spaced and the two spaces after a period had visual impact. Now, with word processing on a whole new level, letters are automatically spaced in a pleasing way according to the width of each letter. The two spaces rule is now obsolete but a very difficult habit to break.

Stacia Ann
said on 24 May 2012 21:06:
Hi, Irina. Punctuation does evolve over time, correct, as language itself does, and there are differences between cultures in use of punctuation--Americans and British people differ in their use of quotation marks, for example.
However, within the U.S., punctuation has not changed radically in formal, academic text in the twenty years I have been teaching. In less formal text, such as text-messages, that is a different story--and one I'd like to write, the use of language in texting:)
I think my main points are there are culture differences, and punctuation and conventions do change, in popular culture more quickly than more traditional, formal situations.
Stacia

irina6
said on 24 May 2012 09:33:
Teaching punctuation is not so easy as it seems. The main issue here, you wouldn't believe, is that it changes over time. Ten or twenty years ago a text was punctuated all the way differently from nowadays. That is not speaking about the differences in cultures and language customs. What we taught before is quite different now. Besides that, there is a great influence of the American English. It would be interesting to talk all that over with a specialist, but alas.

Stacia Ann
said on 21 May 2012 17:42:
Hi, Miss V!
An Oxford comma to break the vocative:

Dear, John: (?)

I'm sorry, this terminology is not immediately familiar to me.
But nothing much would surprise me with errors, especially in writing:)
Students get so little practice.

Thanks for your reading and response!
Best,
Stacia

MissV
said on 21 May 2012 06:58:
The funniest punctuation usage for my students is the "Oxford comma" to break the vocative!!
They really enjoy it
www.tuclase.net
Information

| | |
| --- | --- |
| | Please register to leave comments. Registration is free and takes only a minute! |