<!– google_ad_section_start –>
Present Perfect vs Past Simple: Specific Point In The Past Or Unspecified Time?

<!– google_ad_section_end –>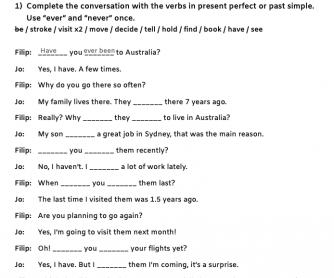 This worksheet lets students review the use of present perfect for unspecified time in the past and contrasts it with the use of past simple for a specific point in the past.
In this exercise, students are presented with a conversation.
They need to fill the gaps in the sentences with the correct forms of the verbs given. Students need to choose between past simple and present perfect for each sentence.
There is an answer key.
Example: Have you ever been to Australia?
Example: My family lives there. They moved there seven years ago.
Similar Worksheets
---