Its-teachers.com: BusyTeacher's Detailed Review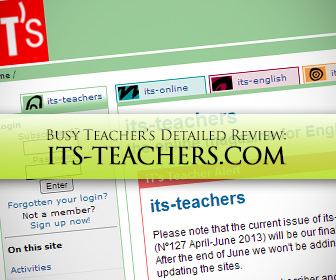 Its-teachers is part of iT's Magazines, which is an independent publishing company.
It began in 1990 and they publish books, magazines and online resources for both teachers and students of English. The writing team includes teachers, teacher trainers and authors and they also develop content for other publishers. Its-teachers states that they provide "original and motivating resources for teachers and learners of English as a foreign or second language", and their slogan is "The online magazine for English Language Teachers." There are some good resources on the site, but unfortunately after June 2013 there will be no more material added, and there will be no more updates to the site.
The homepage is divided into Activities, Bigger Picture, Classroom Wall, Coffee With ...., Destinations, First Impressions, it's-kids, Interact, Penpals, and Voices. There are advertisements on the site.

Pros

Cons
1

You Can Only Access Some Areas by Subscription

Some areas of the site can only be accessed by subscribing members, and it is no longer possible to subscribe. Areas like Bigger Picture, its-kids, and Classroom Wall are no longer accessible.

2

The Site is Effectively Being Shut Down

Although the existing content will remain, there will be no updates or new content added to the site in the future. FaceBook updates will continue to be provided, but it is unlikely that you will receive a response if you use any of the contact links. I think that the options to contact should be removed if there will be no response.

3

No Jobs Section or Forum

Unsurprisingly due to the site being shut down, there is no forum to interact with other teachers and no jobs section. These are commonly found, and used a lot, on other ESL websites.
I think that the fact the site is closing is a shame, because a lot of the material is very useful. Although I was not a subscriber to the magazine, if the information freely available on the website is an indication, I feel that it may have been a good magazine to receive. The information that will remain available though looks to be very practical and useful. I found the Interactive section by far the best, and I loved many of the different sub-sections, especially the area about using songs in the classroom. Also, I think the ideas and suggestion for a new class are great. I think a lot of the other information is great for new teachers, as well as providing a motivational boost for more experienced teachers.
Which sections of the site would you recommend to other teachers?
Do you find the information on its-teachers useful?
This is a guest review by an independent author. This review reflects the opinions of the author and not necessarily those of BusyTeacher.org as a publication.
We post stuff just like this every day on Facebook.
Like us. You won't regret it.
Rate this article:
was this article helpful?