Englishcentral.com: BusyTeacher's Detailed Review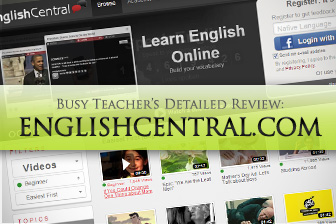 English Central is website designed to improve the listening, speaking, pronunciation, and vocabulary.
As the website describes, "The core of English Central is the video player, where students watch videos, learn vocabulary in-content of the video, and then speak using the video as a model. Access to the website is free with an easy email sign-up, but Premium memberships, which provide users with enhanced features start at $15/month.
The videos, which are classified according to level of difficulty and topic, include transcriptions and vocabulary definitions so that students can get the most out of their listening experience. The videos are interesting and cutting-edge, and there are many relevant topics to choose from. After watching the video, students can practice speaking; there is an easy-to-use built-in assessment tool called "intellicoach" that gives students feedback on pronunciation. The website provides some pretty impressive and convincing statistics that support the use of video technology to improve speaking fluency, and I have certainly seen my students benefit from it first-hand. Most of my colleagues who teach listening and speaking use this as a go-to website for their classes, and we've all had really good results. Their claim is that in 10 weeks, students who use English Central regularly can make notable improvement on their skills, and I think this is quite accurate.
Students can choose to access videos on an as-needed basis, but as members, they can also take advantage of the tracking tools available in order to monitor their progress. Membership isn't necessary, and I'd encourage students (who are undoubtedly on a budget, right?) to go ahead and take advantage of all that the free version has to offer. Students can set weekly goals in the areas of pronunciation and vocabulary. They can also select Video Courses, modules of videos, and exercises that are centered around a particular skill or topic. For example, students can choose courses for Business English, English Pronunciation, or English Proficiency exam preparation (like the TOEIC). A list of courses available can be found here: http://www.englishcentral.com/courses#!/index/all/all/recent
The website is intended to be used by students, though teachers will certainly find it useful, as well. Instructors can design curriculum and goals for students, choosing appropriate videos to fit the needs of a given course. They can also select vocabulary (up to 50 words per week) for students to practice. As we know, the acquisition of new vocabulary is crucial, especially for learners in the early stages. A guide for teachers using the site that includes best practices and a tutorial can be found here.
In addition, teachers may also find the English Central Blog a useful resource. There are regular entries posted on how to use the site. For anyone who wants to incorporate this website into courses ona regular basis, this is a great resource. The blog can be accessed here.
Another cool feature is the Weekly webinars for teachers can enhance the English Central user experience and give instructors general information about ESL and EFL pedagogy.

PROS:
1

It's easy to use

English Central is user-friendly a website and utilizes the most advanced technology available for free. It's extremely intuitive and easy to use, and because it's is a members-only website, there are no annoying advertisements streaming across the screen during a visit to the site. The membership process is easy and streamlined, and the free membership provides access to most resources, making it unlikely that most teachers will need to pay for the Premium versions of membership. I've been able to use the free version with great success, and this is a website that is now on my list of must-haves when I am teaching listening.

2

Students love it

How many times have we as ESL or EFL teachers assigned students the task of listening to news stories for extra practice? This website takes that old practice and makes it much more useful because of the added features. This is fun website for students to use. The topics are current and interesting, and it's easy to navigate the website. I have to do very little instruction on how to use the site; students pick it up right away. Students have lots of options, particularly if their teacher has not assigned specific videos or goals. The assessment tools give students instant feedback, which they love! It's easy to see improvements with the tracking features; students are motivated to keep practicing as they watch themselves get better and better in certain areas. I've seen my students have a lot of fun with this site; they get comfortable with it very quickly, and the return to it unprompted for further practice.

3

Vocabulary features

I love the opportunity that English Central provides for students to access and learn new vocabulary in context. So often, we teach vocabulary in the context of reading, which is also important, but I like that this site allows teachers to really focus on vocabulary in listening and speaking contexts.

CONS:
1

Membership

Access to resources is limited without purchasing a Premium membership, but it's really not necessary. Still, it's always slightly annoying to have to login to a site. IF you're like me, having to remember user names and passwords is frustrating, and I'd always prefer to be able to hop onto a site without having to keep track of that information. Anytime students are using a site with a login, there's also the potential that they will run into issues with remembering user names and passwords, which is an added layer of trouble for some students. Still for the most part, this is a tiny hassle, and definitely not one that should stop someone from using the site.
Those teaching English as a Second or Foreign language should absolutely check out English Central, particularly for oral skills classes.
I think the website can be beneficial both in academic and conversational classes, as it serves a variety of purposes. The wonderful thing is that students can use this website independently and really get a lot out of it. Teachers who want to devote minimal time to using the course planning tools will find that this can be a great addition to any course. I love the topics, and I think students will, too. I've seen first-hand how this site can really help students to improve their listening and speaking skills quickly. If anyone else has used this site or directed students to it, I'd love to hear how you are using it! I've yet to spend much time using the other teacher resources (blog and Webinars), but they look really interesting. I'd also be curious to here if anyone has benefited from those features, too.
This is a guest review by an independent author. This review reflects the opinions of the author and not necessarily those of BusyTeacher.org as a publication.
We post stuff just like this every day on Facebook.
Like us. You won't regret it.
Rate this article:
was this article helpful?