Breakingnewsenglish.com: BusyTeacher's Detailed Review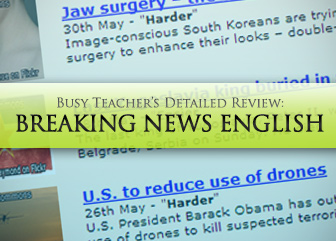 Breaking News English is a free site with ready-to-use EFL / ESL lesson plans, 26-page handout, graded news articles at pre-intermediate and intermediate-plus, listenings, online quizzes, podcasts, and communicative activities.
There are over thirty quizzes for each lesson, so teachers can really customize the materials to fit the needs of the courses they are teaching.
New lessons are posted every two days, and the lessons posted alternate between pre-intermediate and intermediate or advanced proficiency levels. The lessons are based on current news stories, which is definitely one of best features of the site. Every lesson can be completed online or downloaded in PDF format, and listenings are available online or in downloadable MP3 format. What's especially wonderful is that every lesson has 26 pages of activities to practice listening, reading, grammar, vocabulary, and spelling. Users also have the option of using a mini-lesson and there are even warm-ups available. There are over thirty quizzes for each lesson, so teachers can really customize the materials to fit the needs of the courses they are teaching.
Listening archives are divided into topics such as environment, lifestyle issues, people/gossip, health, and world news. Visitors to the website can search within these categories for something of specific interest. It's also possible to do a keyword search. Some of my favorites are Business English and Technology.
Users can subscribe to the daily lessons here. This is a great option for instructors who are looking for course content and materials and students who want to use the site for independent practice.
Sean Banville, the author of the site, began to develop Breaking News English when he was working on his Master's degree in TEFL. His intention was to develop a site that would capture the interest of students on a daily basis. He had at one time, considered writing a textbook, but ultimately decided that the Breaking News English format as it exists today would better serve this purpose.
The following is what Sean Banville has to say about news. I think his perspective is an important one, and it gives us some great insight into the purpose of Breaking News English: "News is everywhere. It affects us all. Sometimes we are even part of it. It is so ubiquitous in our lives (teachers and students alike) that perhaps it should be in classrooms a little more."

Here's why we should include news in the ESL/EFL classroom:
1

Relevance

Students like things that are relevant to their lives. A lesson on news about their local town, a teacher they know or something they asked about yesterday would perhaps be more relevant than the reading on page 38 of their text book. News content in the classroom can help redress the "relevance balance" of (dare I say it) boring, irrelevant, culturally-non-sensical texts. News can be motivating, interesting, and relevant. Because of its relevance, students are likely to have encountered the news in their L1 and bring background knowledge to the classroom.

2

Magnitude and impact

Big news stories get students talking in their own languages. Powerful stories get the whole world talking. Such content provides for a very dynamic classroom. It could be world news or college news.

3

Informational value

We get a lot of our information about each other and the world around us from the news. Information gathering and sharing is part of who we are. Students like doing this in class. Furthermore, it can encourage further reading/listening/watching news stories in English and/or their L1.

4

Reference to someone famous or important

People like talking, speculating, gossiping, criticizing, attacking, defending, idolizing... people in the news. Let all this happen in class. Students love (or hate) reading and hearing about the latest people in the latest stories, fashions, sports, crimes, goings on ...

5

Continuity

It seems the same news just keeps happening. This is great to recycle vocabulary, work on recurring concepts and ideas for a second or third time, build up students' schemata, etc. It should also motivate students to find out more about the stories in their own language. There is ample chance for the teacher and students to revisit and follow up on stories.

6

Recentness

We're hungry for news. We need to know now. And so do students. BBC says: "Be the first to know". CNN says: "As the news breaks, watch it on CNN". News is living history that becomes part of our everyday lives.

7

Emotional interest

It touches our every emotion - it interests, absorbs, shocks, disgusts, horrifies, elates, amuses, disturbs, calms, titillates..... us. It fills us with joy, pride, anger, pessimism, optimism, hope, doom, inspiration, trepidation.... We will it to happen, We will it to stop happening.

8

Intellectual interest

We like to think we are experts. Students do too. Discussing news items in English perhaps gives them confidence in their learning. There may be a "prestige" factor, especially for lower levels, of being able to negotiate news media in English.

9

It empowers conversation

"What's the latest on....?" or "Have you heard?" Two (among many) very common and natural conversation starters. Students in class will naturally respond to the very authentic and everyday act of receiving real news, which can initiate authentic and engaged conversation.

q

It provides a sense of oneness with the world

We all like to know what is happening both in our own back yard, with the people we know, as well as what is happening on the other side of the world. News gives us a foothold into feeling part of our world. It fuels and feeds our desire to keep up to date.

PROS:
1

Helpful instructions for users

Breaking News English is easy to use, in part because their instructions on the site are extremely basic. I like this especially for students. In general, clear, simple instructions usually seem to be a good indication of a thoughtful ESL site. For example, here is an explanation of podcasts on the site: "A podcast is an audio file (most often an MP3) that you can download to your computer or music player (such as an iPod). You can listen to a podcast on a music/MP3 player or a computer."

2

Connects students to current events

Anytime we as teachers can do more than simply offer language instruction, we are accomplishing a great thing. In other words, bringing awareness of the world-at-large to students is an important part of what we as educators can do to make a small difference. I think of my own students, eager college freshman, who are still deciding what path to take in life. For this reason, I like to expose them to as much current information about what is happening in the world as possible. Breaking News English is a great way to do so.

3

Integration of skills

In my humble opinion, the best EFL and ESL teaching practice integrate as many skills as possible into lessons. I truly believe this is one of the secrets to language-learning success, and therefore, whenever possible, I try to utilize integrated lessons in my own classroom. Breaking News English makes this a breeze because all of the lessons on the site include activities for all of the major language skills. This makes my job much easier when planning lessons; instead of pulling materials from multiple places of designing my own to supplement something that I've come across, I have everything I need in one place.

CONS:
1

Appearance can be overwhelming

For first-time visitors to Breaking New English, the overall layout of the site might prove to be a bit overwhelming. There are many advertisements, and it can be difficult to find the search feature among the Google search boxes scattered throughout. There is so much information on this site, that attempting to sift through lists of listening materials can be a bit of a visual overload (at least it is for me). It's a site to visit to browse first so that in a pinch, it's easy to find materials. Likewise, it would probably be wise to spend time helping to orient students to the site if you plan to assign lessons from it, or even if you'd like to recommend it a place for students to get supplemental practice.
In general, this is one of my favorite websites for teaching English as a Second or Foreign language.
It is an extensive collection of current and relevant listening materials, and the integrated lessons are a wonderful complement to the listenings themselves. I recommend that every ESL/EFL teacher give this site a try, either as part of a classroom lesson or as something to direct students to for extra practice. The only downfall is the somewhat messy and confusing layout, and the overwhelming array of choices. Who else has used Breaking New English? Do you think you'll give it a try? How will you use it in your own classroom?
This is a guest review by an independent author. This review reflects the opinions of the author and not necessarily those of BusyTeacher.org as a publication.
We post stuff just like this every day on Facebook.
Like us. You won't regret it.
Rate this article:
was this article helpful?