122,463 views
by Claudia Pesce
Nine out of ten ESL students will tell you the hardest English vocabulary to learn are phrasal verbs, those sneaky little verbs that mean one thing when paired with one preposition and a completely different thing when paired with another.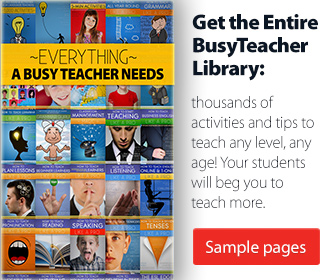 And since it's so hard for students to learn them effectively on their own, it's up to us to help them. Now, if you're in doubt as to which is the best way to teach phrasal verbs, here are some steps that might help you put them across:
How to Proceed
Did you know we have our very own Phrasal Verbs section with almost 100 worksheets? Feel free to download some and put them to good use. And if you design some of your own, don't forget to add them to our collection so that together we can reach that 100-worksheet marker!
Did you notice that in this article we used several phrasals of the same verb with different prepositions? See how many you can find and comment below! Hint: the first is in the title…
Enjoyed this article and learned something? Please share it!
Want more teaching tips like this?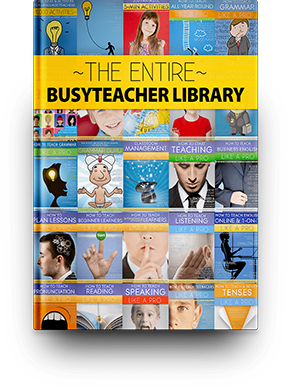 Get the Entire BusyTeacher Library
Warning: only if you're serious about teaching English.
Includes all 80 of our e-books (that's 4,036 pages in total), with thousands of practical activities and tips for your lessons. This collection will turn you into a pro at teaching English in a variety of areas, if you read and use it. Instant download, 30-day money back guarantee.
Show me sample pages →

Print
Rate this article:
was this article helpful?

How to Teach Phrasal Verbs [Get]
0
14,205

0

Look At, Look Up, Look Into, Look Over
6 Types of Multi-Word Verbs in English
0
9,888

0

Putting it Together
Everything a Busy Teacher Needs to Know about Phrasal Verbs (and How to Practice Them)
0
8,202

0

What Every Vocabulary Teacher Needs to Know
0
19,481

0

Do Your Students Know These 3 Secrets to Successful Listening Comprehension? What to Keep An Ear Out For
0
11,785

0

9 Best Tips to Give ESL Students for Professional Business Emails
0
15,973

0
Subscribe to our weekly newsletter!