How To Teach Large Groups: The More The Merrier?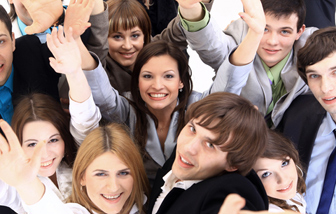 Depending on where you teach, you could face classes of 30 or 40 students.
In some countries even larger classes are not uncommon. With only one teacher and maybe one assistant, teaching such a large group of students can be a challenge. Here are some strategies you can use in different stages of the lesson to encourage everyone to participate and make the most out of your time with students.
How to Teach Large Groups
1

Always Warm Them Up First

Plan activities that encourage students to volunteer answers, work together in teams, or in some other way participate in the lesson. The most important thing is to get them thinking and speaking in English. If it is a particularly sluggish class, plan to have students out of their chairs and moving around the classroom (see our article 'TPR Tricks: 5 Fabulous Ways to Use Total Physical Response in the ESL Classroom'). Fast paced activities will increase student talking time and engage more students in the exercise.

2

Introduce While Eliciting

Your introduction should not be a time for students to passively acknowledge information. This is a time for you to see what they already know related to the topic while giving them the necessary bits of information they will need to complete activities later on in class. Elicit information such as vocabulary from students. You can call on students if you are asking them to recall something you have already covered but should rely on volunteers if you are fishing for something new. Students in classes this size are usually at a couple different levels depending on their interest in English so eliciting material is a great way to see what information students can provide on specific topics.

3

First Practice As A Class

The first practice activity should be done as a class so that students can get an idea of what the target material is and hear you model everything correctly. Further practice can often be done individually, in pairs, or in groups. The main challenge while students are working on something is monitoring them. It is impossible to listen to more than one conversation at a time so walk through the class during the practice time to ensure that students are doing the activity, answer questions, and correct the mistakes you are fortunate enough to catch. After students have completed the activity is when you will have the opportunity to check their understanding of the material. Cover everything in the practice activity as a class and call on students who have not yet spoken. Quieter students may simply be shy but usually, students who do not volunteer do not feel confident about their answers and may need extra help.

4

Production Stage: Encourage Pairwork & Groupwork

Pairs and groups are good for production exercises unless you want students to do a writing activity, in which case you should consider having students work individually. It is important that students work with one another because they can help each other while you are busy assisting different groups whereas individuals have only their knowledge to draw on and thus are less likely to notice their own mistakes. Just like with the practice activities above, be sure to have students present their material from this part of the lesson to the class. This gives you the chance to deliver individualized feedback and allows students to hear some more examples. This is kind of late in the class for students to realize they have been practicing something incorrectly but it is better late than never and you can always encourage students to ask questions about anything they are uncertain about. Students are often hesitant to ask questions but by creating an open, friendly, and constructive learning environment, you will have gone a long way towards setting your students at ease.

5

Revision Is Fun

Review activities are very similar to warm ups. Something fun and fast paced will help you end class on a positive note while reinforcing what you talked about during the lesson. Here you should definitely call on students who have not spoken up during the rest of the lesson to see if they are following along. This is another great time for you to assess how students are doing and think about what you might want to review at the beginning of the next lesson.
While large groups of students can make classroom management and discipline especially challenging, you are also able to do a lot of fun activities with sizable classes that are not appropriate for smaller class sizes. For example, Chinese Whispers is a fun team game that should be done with at least two or three teams with several members each. In a class with about ten to fifteen students, you would have to adapt the game to be a class exercise instead of a team one. With practice, you will be able to manage even extremely large class sizes with ease.
What size classes do you teach?
Rate this article:
was this article helpful?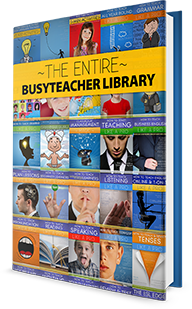 The Entire Busy Teacher Library:
61 current titles + all future titles (free!)
Truly, we might be a little bit crazy, but we know that at this point in the term, things are tight for teachers, and you need a little help, which makes it the right time for our best deal ever. For just $99, you will immediately receive all 61 of our current, bestselling titles. Within a few minutes, you'll have thousands of new BusyTeacher expert approved tips and tricks for teaching grammar, vocabulary, pronunciation, and students at every level from beginner to advanced.
Get it right now - limited time offer ›
Trending Articles right now:

marianmary
said on 13 February 2013 12:25:
I have 35 students for each class.(12 classrooms- 02 hours a week)). It's hard but not impossible. I agree with the using of humor and activities where Ss participate in groups or pairs. My Ss are teens then the activities should be elaborated according the age and their own interests. The teachers need to have fun with their Ss. Thank you for sharing this article.
michael.lampell
said on 1 April 2012 02:18:
lauraali
,
Don't be discouraged. Honestly we've all been there. You got something planned out perfectly to the t and then nothing goes as planned.
Get to know the most out spoken 11 year old in the class and use that little ring leader to your advantage. If there's more than one of them that are out spoken, get to know them all.
Use them to your advantage!
You're not only teaching a language; you are teaching multiculturalism. Kids smell blood and your job is to bring order to chaos. You're smarter and stronger than them because you're an adult, you have that job, you got it, it is up to you to remind them who is the boss.
If a kid tells you, "I don't like English" you have to ask the question. "Why?" I don't know, understand are not acceptable answers. Make them articulate their feelings to you in whatever language they can. Get to know them. Study they're culture and show to them you too are learning new things. Ask them questions about them, on a very personal level. Get down to their thoughts, ideas and try to get them to see you more as a person they can trust rather than an authority figure.
Use humor to make your lessons fun, always be funny. Make them chuckle or flat out laugh. Use their interests as examples in class. Make it easy for them to identify with the language they are learning.
It
"ain't"
easy doing this job. Have fun with it and them the best you can. Always try new things that might be fun.
When I'm studying, it is always the fun moments and fun things that I remember about what I am learning. Language, art ... math! I hate math but I like money. Money equals math to me. I need more math
Just roll with it.

lauraali
said on 28 March 2011 15:27:
No! Sometimes it is so hard!! Especially if the group is 11-year-olds!! Many times, I feel disappointed and I feel my time as a teacher is over!! What can I do? I need words of encouragement, PLEASE
Information

| | |
| --- | --- |
| | Please register to leave comments. Registration is free and takes only a minute! |