Your First Lesson: 5 Essential Ice-Breakers That Guarantee Success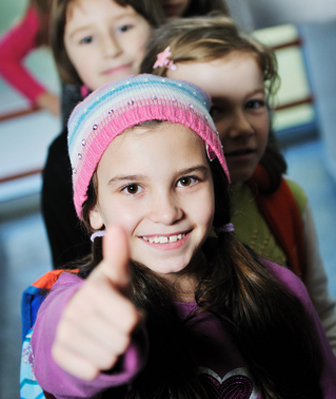 Starting a class with an entire group of new students can be a stressful experience for both teacher and student.
Teachers may feel awkward speaking in front of a group of new faces who appear to be watching in a quite judgemental manner. Students also feel the nerves during a first class, as they may not have spoken English for a very long time. Their last experience with an English teacher may have been in a strict, grammar-focused classroom environment many years ago. This often creates a series of confidence issues with the student, having not used the language for an extended period and fearing making a mistake. The first class should be to promote a positive learning environment, where usage of the target language, whether right or wrong, will be viewed as being beneficial for the students. This is often the biggest hurdle faced by ESL teachers when dealing with adult learners of a basic level.
Additionally, the first lesson is also a prime opportunity to build a rapport with the students. By developing a strong connection with students, teachers set a cooperative learning environment that is easy for you and comfortable for the students. You should also use the first class as a time to evaluate the level, needs and wants of the students, and this can be done through a number of activities that are fun, entertaining and sure to develop on all of the important qualities that set the mark for what will be a successful course.
Fun First-Lesson Ice-Breakers
1

'?'

When I walk into a class for the first time, instead of introducing myself, I like to draw a big question mark on the board and get the students to do all of the hard work. I sometimes tell them that I would normally introduce myself, but I'm feeling a little tired and that they must do the hard work. For more advanced students, the teacher could walk in the class and have students ask whatever comes into their mind with little preparation, while lower levels could work in pairs or groups and write down some questions they could ask. Error correction is very important, the teacher should write the question on the board, and if a question is asked in a structurally incorrect way, the teacher can elicit the answer from other students in the class. This is good way to build the confidence of students and show them that incorrect answers are still beneficial to the class. This exercise is a great way to start off a class as it puts the students in a position where they are effectively doing work in your class, experiencing your role as a teacher in the class, and building their confidence in using English in a fun and light-hearted manner.

2

'Lie Detector'

Lie detector is a great way to build rapport and trust with students. This activity involves the teacher writing three sentences on the board about him: 2 are true, and 1 will be a lie. Teachers should embellish the details slightly and write some sentences that the students wouldn't be likely to guess. Depending on the level of the students, the students can then ask questions about the topics of the three statements of the teacher to determine the lie. BUT, the hook to this game is that YOU, the teacher, may lie verbally to the students in your response, and the students must play the role of a lie detector and figure out which sentence is a porky pie. You can then set it up as a fun game, while analysing the level of the students by getting them to write three sentences about them, with one of the sentences being a lie. A good way to do this is the class versus the teacher, if the student can successfully deceive the teacher, the class will get the point. If the teacher can successfully detect the lie, the teacher will get the point.

3

Talk about your partner

In some classes, especially basic levels, the students may not possess the necessary knowledge of structure or vocabulary for the above exercises. Introductions are vital, as the teacher can learn a lot about the interests, along with wants and needs of a student. You may find out something rather unique, like the softly spoken middle-aged woman who drives rally cars as a hobby on the weekend! This would make quite a fantastic talking point when it comes to asking the student about her weekend. To avoid being predictable and to challenge the students, introductions can be done with a twist – by finding out the information from their partner and completing presenting the information to the class. This takes a traditionally quiet, individual task and transforms it into a fun, social activity that incorporates the additional skills of forming questions – provided the student uses English and not their native language!

4

Expectations, wants and needs

When dealing with children, the expectations of the teacher play a significant role in contributing to a productive flow of the course, especially for dealing with classroom management. However, when it comes to dealing with adults, focusing on the expectations of the students is vital when providing extracurricular activities. All adult students would have an expectation of an English class, and when you fulfil the expectations of the student, you succeed as an ESL teacher. By finding out the expectations of the students, you can tailor the course around their wants and needs, which at the end of the day gives you positive feedback and provides you with a great reputation that can lead to more opportunities in the future.

5

End the class on a fun note

After completing a successful first class, leave on a high note and play a game. A great little quicky vocab game is to come up with a topic, e.g., 'The Beach', and have the students stand up and form a circle in the middle of the room. The student must say an original word associated with the topic, e.g., 'sand', 'sea', etc. If the student gives an answer that is not associated with the topic, takes too long to answer or repeats a word, they must sit down. The game continues until one person is left standing, who is the winner.
As the saying goes: 'first impressions last', especially walking into a class full of new faces.
All you need to do is arm them with the confidence to succeed, find out what they expect from the class, while taking a fun and light-hearted approach. By following the above steps, your students will love you, and have the confidence to express themselves and walk away from the class having learned something new in constructive and enjoyable atmosphere.
Rate this article:
was this article helpful?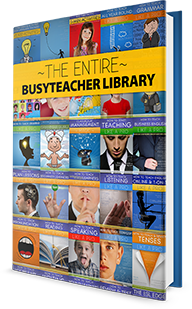 The Entire Busy Teacher Library:
61 current titles + all future titles (free!)
Truly, we might be a little bit crazy, but we know that at this point in the term, things are tight for teachers, and you need a little help, which makes it the right time for our best deal ever. For just $99, you will immediately receive all 61 of our current, bestselling titles. Within a few minutes, you'll have thousands of new BusyTeacher expert approved tips and tricks for teaching grammar, vocabulary, pronunciation, and students at every level from beginner to advanced.
Get it right now - limited time offer ›
Trending Articles right now:

Ser
said on 6 October 2013 00:27:
Simple and interesting tips!

mixio81
said on 6 September 2013 22:10:
I need some materials for the topic Careers and opportunities
BUSYTEACHER_admin
said on 4 September 2013 14:08:
drisley,
looks like you're referring to the Google Consumer Surveys we're currently testing. You need to answer 1-2 simple questions to view the content of the article.

drisley
said on 4 September 2013 12:43:
I am unable to SEE the lesson idea!!! Advertisements are completely covering all BUSY TEACHER pages...even though I'm logged in!!!
Dana

lida_azmand
said on 27 July 2013 20:39:
thanks

saritadewan
said on 25 April 2013 16:31:
Good reminder for a teacher before going into the class, it is interesting and fun to break the monotony of continuous classes.Thanks for the tips.

Azida Aziz
said on 24 February 2013 05:46:
I love all these tips. The Vocab Game can also be used during the beginning of every class as warm - ups which may take less than 5 minutes. I would do this during all my classes - with improvisations so that it does not turn up to be too predictable. Students can improve their vocab.

mlcorr24
said on 24 January 2013 08:25:
With younger students I sometimes find it a fun activity to play a variation of the "I went Shopping and I bought..." game. Students must introduce themselves by saying their name and one thing about themselves (you may decide on a favorite food or hobbie). As you go around the class the students must introduce all preceding classmates before introducing themselves. This is best done with smaller groups. It is also a great way for you to learn the students names.

jananajman
said on 3 November 2012 20:43:
I have a first lesson with my students on Monday morning - at primary school - 6th, 7th, 8th and 9th classes - so I have to prepare different beginnings - good tips - thank you

lilian60
said on 6 September 2012 13:02:
i would like to try some of these tips next semester :))


ilikebusyteacher
said on 21 April 2012 05:36:
nice tips for beginner

Nessal
said on 9 April 2011 20:26:
Nice and I want to add one.I draw a flower on the board.On each leaf an information about me.They ask questions to me. For example I write my husband's name''Salih''.They ask who is Salih. I write red. They ask what is red? Then they do the same and get information about their friends.If the group know each other well we use celebrities or the person they want to be.They enjoy a lot.


busama
said on 24 March 2011 10:04:
nice tips
Information

| | |
| --- | --- |
| | Please register to leave comments. Registration is free and takes only a minute! |