Riddle Me This: 5 Practical Uses for Riddles in the ESL Classroom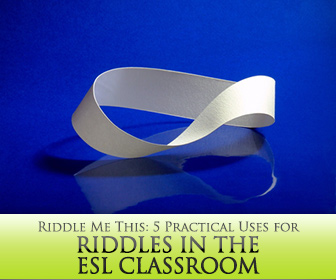 Why did the ESL teacher use riddles in the classroom?
Well, I suppose you could answer that question several ways. Riddles aren't something that most English as a second language teachers immediately go to for classroom work. At first glance, the humor in them doesn't often reach across language barriers. We may like riddles personally and find them funny, but using them in the classroom? How does an ESL teacher translate the humor from one culture to another? How can we get our students to get riddles? Why bother bringing riddles into the ESL classroom at all? Don't give up. Introducing your students to riddles and using them in language study is actually easier than you think, and riddles can be a valuable resource to the ESL teachers who are willing to use them. Here are some practical uses for riddles in your ESL class.

5 Practical Uses for Riddles in Your ESL Classroom
So why did the ESL teacher use riddles in the classroom? What do you think?
Rate this article:
was this article helpful?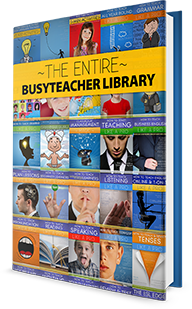 The Entire Busy Teacher Library:
61 current titles + all future titles (free!)
Truly, we might be a little bit crazy, but we know that at this point in the term, things are tight for teachers, and you need a little help, which makes it the right time for our best deal ever. For just $99, you will immediately receive all 61 of our current, bestselling titles. Within a few minutes, you'll have thousands of new BusyTeacher expert approved tips and tricks for teaching grammar, vocabulary, pronunciation, and students at every level from beginner to advanced.
Get it right now - limited time offer ›
Trending Articles right now:

Ana Pericak
said on 29 June 2013 19:40:
Great! Both as a warm up and to finish a lesson.
Information

| | |
| --- | --- |
| | Please register to leave comments. Registration is free and takes only a minute! |