How You Can Use Backwards Design in Lesson and Curriculum Planning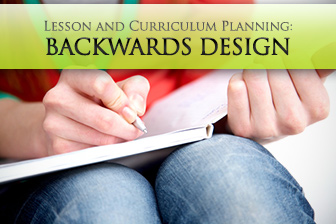 The theory of backwards design in lesson and curriculum planning is not a new one.
It is often introduced briefly in TEFL training courses, but quickly falls by the wayside as the reality of the classroom sets in. However, more and more modern educators are starting to realise the usefulness and effectiveness of backwards design. This is interesting because it challenges the traditional class planning model by, literally, turning it on its head. But what is 'backwards design, what benefits does it have, and how can you use it to improve your classes?
Put simply, backwards design starts with the outcome in mind. Unlike traditional planning which begins with materials and activities, backwards design is a way of planning a class or course that starts with the learning outcomes or goals, then moves 'backward' to thinking about what evidence will show that these goals have been met, and then designing classes and activities that will allow that evidence to be collected. These are the three steps of backwards design.
Learning goals – Decide what students should be able to do, know, understand, or produce.
Evidence – Determine how you can measure this, and what will not be accepted.
Activities to collect evidence – Plan how and what you can teach so that you can collect this evidence.

This theory of lesson design has many benefits:
1

Focused

Both students and teachers are less like to become lost or sidetracked, as end goals are clear and pre-planned. The whole course moves towards these goals providing structure and guidance. Students know what they are doing, why they are doing it, and what they are responsible for having learned by the end.

2

Goal Oriented

Having clear goals from the beginning of a course or lesson provides students and teachers with a sense of purpose. They know where they are trying to get to, and this is a huge motivating factor for many. Also, when a curriculum is goal oriented and planned in this way, the course is often more cohesive with activities being more interconnected, which helps students connect both new learning and existing knowledge.

3

Measurable Outcomes

This can work very well for teachers who need to provide measurable outcomes in their classes. Because the outcomes are pre-planned and acceptable evidence of these outcomes is decided well ahead of time, teachers no longer have to teach a set of materials or course books and the devise a way to test what they hope they have taught. Having measureable outcomes is also beneficial for students, as they know ahead of time exactly what they need to do in a class or course and lets the guide their own learning in that direction.
Working with backwards design, while beneficial, can be difficult for teachers. Don't be discouraged if you find it difficult at first.
Also, be careful not to confuse backwards design with 'teaching to the test'. 'Evidence', in the case of backwards design, does not necessarily mean testing. It could be an ongoing process, class projects, creative projects, or anything that you, as the teacher, decide constitutes evidence that students have reached the set goals.
By working through the steps above, you can plan a backwards class, course, or curriculum. It can require a big shift in a teacher's thinking, but the benefits are worth the initial work you put in.
Do you have any experience with backwards design? Will you try it? Let me know in the comments.
This is a guest article by Samantha Russel.
Samantha currently teaches in South Korea. She has a BA in psychology and an MA in social anthropology. She has lectured at Massey University, New Zealand and has taught students at all levels. Samantha strives to empower students in their education and help them discover their own learning motivations.
Interested in becoming a BusyTeacher author?
Send us your ideas!
Rate this article:
was this article helpful?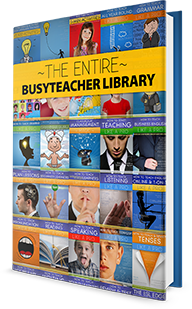 The Entire Busy Teacher Library:
61 current titles + all future titles (free!)
Truly, we might be a little bit crazy, but we know that at this point in the term, things are tight for teachers, and you need a little help, which makes it the right time for our best deal ever. For just $99, you will immediately receive all 61 of our current, bestselling titles. Within a few minutes, you'll have thousands of new BusyTeacher expert approved tips and tricks for teaching grammar, vocabulary, pronunciation, and students at every level from beginner to advanced.
Get it right now - limited time offer ›
Trending Articles right now:

jjhl
said on 3 October 2013 22:00:
My experience: (been teaching YL for nearly 15 years now!) When I started teaching young learners (and not only) at a language school I was often disappointed with my students lack of homework done / homework completed poorly / incomplete homework etc etc. What?! How come they didn't understand what they had to do? Impossible! Then, slowly - ok, very slowly - I realised that I was part of the problem. There I was thinking that everything was clear, they were ok in class after all and yet the homework was dreadful! Why? I began to think backwards - what is it that I expect them to produce? What do I actually want to see / hear / read in terms of homework? And so I began to plan my lessons starting with "homework", ie. this is what I want them to do on their own at home. What do I need to give my students to get it? Do they have enough vocab to produce it and to enjoy producing it? Do they have the structures (according to their level, of course) they need? Have I provided enough opportunities in class for them to practice? Have they been able to expand / develop the language necessary in a way which is personal and they would find enjoyable/useful/ relevant? Once I started thinking like this there really was improvement and homework became an element which the kids began to see as an opportunity to show off their creativity and they gained so much confidence in the language. I'd walk into the class to find that they would already be looking at each other's homework and comparing what they'd done. I suggest trying a couple of lessons planned like this, it worked for me and my young teens too!

Molly2
said on 13 February 2013 10:42:
Hmm....in my experience, it is often the sidetracking that leads to the most realistic communication and highest level of active involvement in lessons.
xialaoshi
said on 9 February 2013 17:19:
In addition, backwards design allows us to propose really engaging activities to our students, accordind to their interests and knowledges.
Information

| | |
| --- | --- |
| | Please register to leave comments. Registration is free and takes only a minute! |