Trending Articles right now:
How to Be a Successful ESL Teacher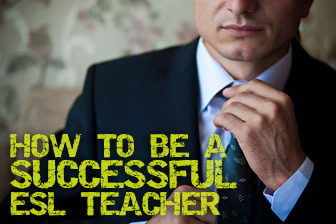 Congratulations! You've chosen to become an ESL teacher, and it's one of the most rewarding professions around. Yet, you must be warned – though tremendously satisfying on a personal level, it may not be as financially rewarding as other careers.
Success, for an ESL teacher, is not determined by how much you make a year – the gains are not precisely material in nature. So what is success for an ESL teacher? And what makes an ESL teacher more successful than others?
What is success for an ESL teacher?
In my opinion, a successful ESL teacher is one that is able to make a good living doing what he or she enjoys doing or does best: teach English as a second language. The phrase "make a good living" cannot be emphasized enough. No, ESL teachers don't buy luxury cars or live in expensive penthouses, but we can most certainly make enough to not only pay the bills and buy groceries, but also go somewhere nice at the end of the school year. ESL teacher salaries vary greatly from country to country, and there are some excellent opportunities abroad. But no matter how much you are paid or where you teach, there are things that will help you get more or better teaching gigs, and have greater success at teaching English as a second language.

The Recipe for Success
1

Be Different

Memorable ESL teachers are often successful teachers. They usually obtain more classes or private students through word of mouth and recommendations from former students. So how do you become memorable? You are memorable when you're different and unlike any other teacher a student has had before. And how do you accomplish that? If you let your inner personality shine through, you will be different – guaranteed. Don't be a robot that spews lists of verbs and explanations on when to use each tense. Be yourself and let your students get to know you and what makes you different from other teachers.

2

Don't Lose Sight of Your Mission

We've already established that as a teacher you're not out to make loads of money…so, what is your mission as an ESL teacher? To help your students achieve their language learning goals, whether it is to speak, write or understand English better. Don't lose sight of this, and you will help them succeed, which in turn will make you successful as well.

3

Be Helpful

Successful teachers go above and beyond their expected tasks. They recommend materials for extra practice. They provide information students request. They do research on an examination a student might want to take. Does this take up more of your time? Of course it does! But your students' deepest appreciation is absolutely priceless.

4

Deliver Results

Successful ESL teachers deliver results that can be easily seen and measured by students, and not just by means of exam grades. Always review with your students the goals they have achieved in the semester and at the end of the year. More than a number on a test, they need to see exactly what they learned and compare it to what they didn't know in the past.

5

Exceed Expectations

More than just meeting goals, a truly successful teacher exceeds students' expectations. You can tell students they will be able to handle basic social situations by the end of the course, but what if they are also ready for a job interview in English?

6

Be Passionate

Successful ESL teachers teach everything with passion, even things that are less than interesting like Reported Speech or the Subjunctive Mood. Passion is contagious when transmitted properly, and passionate students learn more.

7

Be Generous

Did you find a really cool website, game or worksheet that you know your students will love? Successful ESL teachers don't keep useful tools to themselves. They share it with other teachers, so that they, and their students, can reap the benefits or have fun, too.

8

Know When to Take Responsibility

Are your lessons boring? You are responsible for making them engaging. Are your students unclear about what they have learned or achieved? You are responsible for communicating this clearly.

But on the other hand, successful teachers must also know when it is the students' turn to take responsibility. Why did your student fail the class? Is it because you neglected to provide the right support and guidance, or because he or she never did any homework and showed zero interest during class?

9

Get Training

Successful ESL teachers make sure they obtain the necessary training, TEFL or TESOL certification. Any native English speaker can teach English, but you will not be a successful teacher unless you receive proper training.

10

Empower Your Students

Successful ESL teachers don't coddle their students. They don't translate words into students' native language. They don't finish sentences for them. They don't complete their homework exercises for them. And they don't tell them how to do all of these things. They show them how to do it and provide the necessary tools.
Earlier I mentioned that what ESL teachers obtain is not material gain. What do we gain, then? Simply put, we gain personal satisfaction at a job well done, but also learn a great deal from students.
For us, success is not measured by how much we've gained, but by how much we've given.
The more we give, the more our students succeed at learning English. The more our students succeed, the more successful we become as ESL teachers.
Agree? Disagree? Agree to disagree? Sound off in the comments below!
Rate this article:
was this article helpful?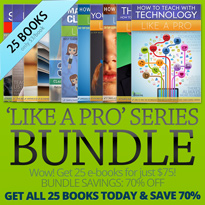 Get 25 'Like a Pro' ESL E-books at 70% OFF!
Don't miss this unique opportunity to get the complete 'Like a Pro' series (twenty-five phenomenally popular ESL best-sellers) at only $3/book. Unbeatably priced, this Bundle literally saves you hundreds of dollars and fits your budget just right!
Get all 25 e-books right now ›

utcgg
said on 27 September 2012 20:20:
It is good to get English teaching tips like this. It makes you confirm or correct your teaching procedures. However, as an English Teacher you can do everything to improve or to encourage English learning and if you dont get the students real interest then you may become or feel like frustated. Specially in this area of Mexico, students dont show good learning (studying, practicing and so forth) habits, eventhough you keep on pushing. Its a real hard work to do with them.
Oscar Reducindo/utcgg


ClaudiaPesce
said on 24 September 2012 13:22:
Afif, Afif, You can be different by being YOURSELF, as each teacher is different. We often know what students like and don't like, but do they know anything about YOU? You don't have to share every detail about your personal life, but share enough to show your personality, likes and dislikes. I'll give you an example. I love cats and whenever I can I include my cat Ulysses in the class: I give an example using him or I tell my students about a funny thing he did. Students then know I'm the "teacher with the crazy cat" and then they often ask about him or how he is. My sister is also an ESL teacher, and she was born in Brazil - she always tells students this, and she's known as "that teacher who was born in Brazil and speaks three languages". You can tell your students about your hobbies or anything you like, anything that will help them remember you and see you differently from other teachers.


Peter Panda, yes! It's a loooooooong journey! And as long as your students are successful in their learning, so are you!


assemmalika, Please read what I responded to Afif. I can't tell each of you how to be different or memorable. I can just tell you to be yourself with all of your likes and dislikes. How can you transmit passion to your students? Think of one thing, just ONE THING, you are passionate about. Is it a sport, a hobby, an activity? Animal rights? Soccer? Reading? A particular type of music? Whatever it is, find ways to share this with your students. For example, say you're passionate about movies and you're teaching the present perfect. You ask your students "Have you seen The Avengers? What a great movie!" And you all ask each other about movies you have already seen or haven't seen yet. You may later be known as the teacher who is a "movie buff" or "soccer fan" or "loves to travel". Hope this helps!


Peter Panda
said on 23 September 2012 17:46:
Eight from ten tips written above I've been successfully doing; as you know, to be a successful ESL teacher it requires lots of practices, love what we do (like in my case) and practice your patience. It's a looooooong journey, but it's worth when you succeed helping your Ss achieving their language learning goals and the results they tell you about that.



Peter Panda

assemmalika
said on 23 September 2012 17:15:
Hi, really liked your point that an ESL teacher shouldn't be expecting high salary or expensive cars. Those with such expectations ought not to be employed, it's dangerous for students.
Secondly, all this being passionate and different, have seen a lot of such advice, but it's like showing a delicious muffin to your fellow and say to do it like that, with no further instructions. What i mean is, article's encouraging and makes you feel you're not alone, i'll definitely share this, but it's read only once thing, may be the author has aimed to

Afif
said on 21 September 2012 08:04:
I immensely aware what you've written on the article and they are correct. I do agree. However, I experience a hard effort to implement/to design/to apply the theories into practical use. Say I want to be different for my teaching activities, this task is so confusing on what part I should be different. I have given my students "Classroom Language for Student" taken from this site and have stuck it on the class. That's only thing I have done. The rest I only teach, teach and teach. For your information, I have been teaching TESOL for about one year ago.
Thank you for replying. I will recommend your articles to my fellow English teachers.
Information

| | |
| --- | --- |
| | Please register to leave comments. Registration is free and takes only a minute! |