Trending Articles right now:
6 Ways to Make Presentation Tasks Work in Your Classroom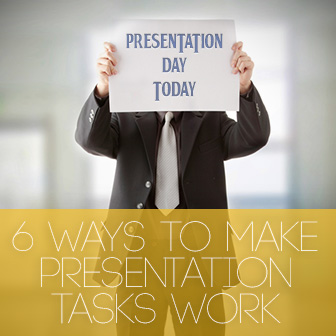 A lone student stands self-consciously at the front of the class, hiding behind a sheet of notes. She almost has to shout to be heard over the fragmented conversations of the rest of the class. Even the more polite and conscientious students are glazing over as the speaker struggles to get through her presentation…
As a teacher you sit there, trying to lead by example and listen intently. You may glare at whoever is chatting on the back table and wonder whether it is appropriate to interrupt and remind everyone to listen. You are probably making a silent vow that you will never set a task involving presentations again.
Presentations CAN be beneficial in the ESL classroom. They encourage clarity, good pronunciation and a structured approach to speaking. However, these advantages only benefit the student who is giving the presentation. The problem is that the rest of the class often has nothing to do and as a result, they lose focus. Listed below are 6 ways to remedy the situation and make presentations work in your classroom.

How to Make Presentation Tasks Work
1

Allow students to work in groups

Teachers tend to forget that it can be pretty daunting for students to be hauled up in front of a class individually and made to talk for several minutes. Allowing students to work in groups creates a more relaxed and dynamic environment. It enables the incidental use of English during the planning process; students must communicate within their group to decide who is going to say what. Importantly, a change of speakers energises a presentation and keeps the audience engaged.

2

Get multiple groups to present at the same time

If you have 6 groups in your class, pair groups together so that each group is presenting to one other group. This way there are 3 presentations going on at once. This means more interaction and communication, making your classroom a hive of activity.

Speakers may feel more relaxed because they can stay seated and present their work to a smaller audience. A smaller audience is also more likely to pay attention, ask questions and give helpful feedback.

After round 1, you could move the groups around and repeat the process. Students will have learnt from the first presentation and can put the feedback they have gained directly into practice.

3

Make it competitive

The task is for each group to plan a holiday and present their ideas to the class. Explain to students that they are going to vote for which holiday they would like to go on. The winning group is the one with the most votes. This gives students an incentive to listen to the presentations of the other groups.

If you are practicing using vocabulary about houses, get each group to be real estate agents and try to sell a house to the class. After the presentations you could hold an auction where students bid on the houses that they liked the best!

If the groups are presenting an invention or a design they have created, get other groups to score each invention out of 10. Students should score the ideas presented, not the language used.

By adding a competitive edge to the exercise, you inspire the speakers and the listeners to really engage with the task and with each other.

4

The teacher asks questions

Make the activity into a listening exercise for the rest of the class. Before each presentation, tell students that you will ask them questions afterwards about what was said. As you listen, make notes and write some comprehension questions to ask the class.

5

Students ask questions

This will make the presentation more interactive and give students something to think about as they listen. Tell students to prepare one question each for the speaker. They can prepare their question during the presentation. Afterwards, choose 2 or 3 students to ask the speaker their questions.

6

Students give feedback

This has 2 benefits; it focuses the listeners on the presentation and provides valuable feedback to the speaker. Feedback can be as structured or unstructured as you like. It could be done with forms, by writing comments on slips of paper or on post-it notes.
By making the listeners feel involved and making the exercise communicative, presentation tasks can be more fun, more productive and much easier to manage.
This is a guest article by Samantha Steele.
Interested in becoming a BusyTeacher author?
Send us your ideas!
Rate this article:
was this article helpful?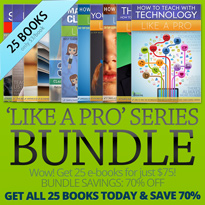 Get 25 'Like a Pro' ESL E-books at 70% OFF!
Don't miss this unique opportunity to get the complete 'Like a Pro' series (twenty-five phenomenally popular ESL best-sellers) at only $3/book. Unbeatably priced, this Bundle literally saves you hundreds of dollars and fits your budget just right!
Get all 25 e-books right now ›

uconn80
said on 2 February 2013 18:42:
Excellent. I already have classes relating to houses and inventions (where students present) and this will add another dynamic to them. I like presentations and really appreciate this article, many great ideas.

Nana90
said on 4 October 2012 12:54:
They are wonderful ways. I am going to apply them soon!


jesmarina77
said on 19 September 2012 18:41:
excellent!!!! i try to work in that way and it works, i would like some ideas to work on 5th grades, thank you

wickhamster
said on 19 September 2012 03:12:
Our trainee teachers are asked to do a lot of PowerPoint presentations. Usually they go on the Internet, plagiarise a few bits and pieces directly onto the slides, and then read off the slides to a bored audience who are busy finishing off preparation of their own presentations.
So we got them to try a Pech-Kucha style presentation (20 slides x 20 seconds each slide), and they were not allowed to put any words on any slide except the title. They worked in pairs, and it was a competition.
Besides having a lot of fun, we have noticed a big change in their presentations generally - even their regular ones where they are allowed to use words.

chelseacat50
said on 16 September 2012 01:02:
excellent ideas - will use some tomorrow
Information

| | |
| --- | --- |
| | Please register to leave comments. Registration is free and takes only a minute! |