Trending Articles right now:
You Are NOT Your Students' BFF (Best Friend Forever): Balancing "Friendliness" and "Friendship"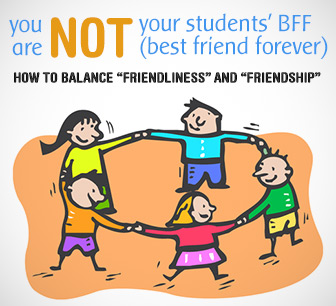 Sometimes there is an impulse among ESL instructors to befriend their students, especially if the student is the same gender and age (sometimes it occurs between opposite genders as well, but that's a different article.)
ESL students are often alone in this country and hungry for friendship; teachers, because of the nature of their all-encompassing work, may be similarly lonely. In addition, ESL students have often led interesting lives and have much to say, and teachers tend to be good listeners. So a friendship may blossom, and when the invitation, usually from the student, comes to meet at a local cafe, or to come to the student's home for dinner, it seems natural to accept. However, there are a number of reasons not to, not to cross that line from teacher to friend.
The first and foremost reason is you are quite simply not your student's friend. As with parents who try to be their children's friend but quickly find that they can't be friends and remain effective parents—your BFF, after all, doesn't tell you what time to come home or to clean up your room—it's also very difficult to be your student's friend and maintain your teacher's role. After enjoying your student's hospitality at her home, for example, how do you then give her a "D" on the midterm, even if earned? If you've confided in your student your family problems, can you really face her in class, telling her which group to work in and what activities to do? Students do not usually engage in blackmail, of course, but matters do become complicated when the line between teacher and friend is blurred, so it's best not to blur the line. Of course, this is easier said than done, especially when students do make overtures of friendship. How can these politely be refused? How can you still then maintain a "friendly" relationship without being "friends"? It's a delicate balance but it can be accomplished.
Methods to Maintain a Friendly Attitude Short of Friendship
1

Set the Tone

The teacher really sets the tone for the student-teacher relationship and the overall class. If the teacher is polite, friendly but businesslike, and remains focused on class work rather than personal lives, this goes a long way to establishing a tone. True, sometime a strong-willed student can undermine the tone set by the teacher, but that becomes very hard to do if the instructor has worked on the tone from the first day of class. The lone hostile student sitting in the corner and rolling his eyes or smirking is not so attractive to join if the instructor's engaging and carefully planned activities are the alternative.

2

Make Class Time Fun and Engaging

If there is enough to do in class, enough meaningful activities and practice in and outside of class, students will be too focused on learning English to plan their next party with you. It's fine to have fun with your students, but it's best to confine that fun to the classroom and educational activities.

3

Set Boundaries

Even with careful planning, there will still be students who test limits by attempting to bring in their own personal lives or ask the instructor about hers. The instructor can set boundaries by asking students to talk about their personal lives or share pictures with classmates after class rather than taking up class time passing them around. To questions about her own life that may seem too intimate, the instructor can respond with a smile, "I don't discuss my personal life in class," so that it is seen as a general policy, related to teacher, and not directed at a specific student. This can also be followed up with a small joke such as "I'm afraid it might put you to sleep."

4

Be Straightforward

As with most interactions with others, straightforwardness is usually best as people are notoriously poor at picking up on subtle clues and hints. It's best that you are honest about the kind of relationship you want with your students: one of mutual respect and learning, for example—but inside the class.

5

Be Professional

Try to maintain a professional demeanor with students. This implies some distance, politeness, and a focus on the intellectual over the emotional side. This is really necessary in effective planning of lessons and grading of students. The focus should be on acting as a teacher not as a buddy.

6

Be Available — as a Teacher and Mentor, Not as a Friend

Finally, be there for your students on campus—in and outside of class. This means not only in teaching class but in advising which classes to take next term, writing letters of recommendation, assisting in understanding assignments, and discussing future professional and educational goals. If students see everything you can do for them as their teacher, they will forget about having you as a "friend." Friends and teachers help in very different ways and ultimately perform different roles.
So does all of this mean that teachers can't have any relationship with students outside of class at all? No, it doesn't: teachers can and should go on class outings, for example, with their students—but as teachers, and the outings should be related in some way to education.
It's all right for students to bring their personal issues to you to help with—how to resolve a problem with a roommate, for example, or how to balance a social life and school life. These are issues that teachers generally have experience in and can offer help with. But the relationship is really not mutual, and that is why teachers really can't be a student's "friend"; because a student shared with me her concerns with her roommate does not mean I am free to share my marital issues with her. Just as a parental role really precludes that kind of "sharing," so does a teacher's, and just as parents might want to protect their children from the sometimes brutal adult life, so does a teacher want to preserve her classroom space from the ugly outside world. One way to do this is by preserving the teacher-student relationship.
What is your position on teacher-student friendships?
Rate this article:
was this article helpful?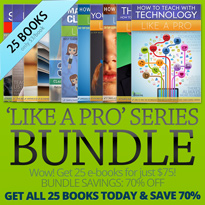 Get 25 'Like a Pro' ESL E-books at 70% OFF!
Don't miss this unique opportunity to get the complete 'Like a Pro' series (twenty-five phenomenally popular ESL best-sellers) at only $3/book. Unbeatably priced, this Bundle literally saves you hundreds of dollars and fits your budget just right!
Get all 25 e-books right now ›

ER.LA
said on 1 May 2013 17:01:
[i][/i]Hi Dr. Levy, how are you? I hope that you are doing well. Thanks a lot for you, it's such a remarkable article.

Yeira
said on 5 November 2012 06:37:
Thank you for the article that touches upon an ethical issue. I have been teaching English to school and univerisity students for 27 years. I agree with the author that certain distance between the students and the teacher should exist but the teacher's authority cannot be established just because they are certified or licensed to teach students. It is their knowledge and teaching techniques that contribute to the atmosphere of mutual trust and respect. They sense that you are here to teach them, and no matter how young you are, they will aslways treat you as their teacher. Within the lesson hour they will do what you will tell them to do. However, extra curricular activities do not exclude a more relaxed atmosphere - in Russia teachers can invite their students to their place, especially foreign students. They know the students are homesick and feel lonely in a foreign country, but hospitality is our national feature. As a university teacher I would often arrange a tea party for my students. I wanted them to socialize more as students. Eventually they learned to value their university environment, their fellow students. With adult students (aged 30 to 45) I sometimes turn into their friend. Yes, I impart knowledge to them, but we have common interests and I always learn something new from them. I tend to turn down their invitations to come round and have a cup of coffee with them, but I am always happy to see them at my place as I can show them my library, we can watch a video together and then we discuss it, it is there that we can talk about our everyday life and problems.

suwonteacher
said on 27 August 2012 02:55:
Hi, I find this article very interesting. I am a new teacher in South Korea, and I think I've made this mistake already. Problem is I don't know how to change it! I have a lot of the same students for a long time, and I don't know how to change the classroom atmosphere now that it has been set. Also, it seems expected at my school for teachers to get to know students outside of class. I think maybe it's cultural. I definitely don't know how to establish a business like friendliness without getting too friendly. The students don't seem to open up unless I ask them questions about themselves. I feel like some personal questions (family, hobbies, work, life, etc.) really get the students talking and helps them to relax. How do I do that and still establish myself as a teacher? Any ideas would be nice! (also, I should mention I teach adults and everyone is older than me!)

Cyndii
said on 3 August 2012 16:32:
Soo what to do if they really insist in going out with you or inviting to their houses and after that they think you are their friend?

rosalio
said on 2 August 2012 13:40:
I strongly agree!


kenny.reinosa
said on 1 August 2012 13:20:
Thank you very much Dr. Levy. This issue is something we all deal with at some point in our careers. Your suggestions are very useful, and should always be taken into account. Personally, I have had to be a good listener of some students' personal problems, like someone going through a divorce or someone getting fired from work. As you pointed it, one sometimes as a teacher wonders: why on earth is this person telling me their personal life without asking me if I am interested or willing to hear? but anyway, if they tell you their problems is because they see you as someone who they can trust, and even as someone who could give them some good piece of advice. I think that we should always be good listeners, but the key is trying not to get too involved. We should be friendly teachers, but not close friends. I always listen to my students, but only after they ask for advice. It is not a good idea to offer everyone personal advisory on things unrelated to the class. Finally, if you have to, or can listen to them and advise them, do it, but carefully, but do flip it over, I mean, don't tell them YOUR problems. Thanks for sharing your thoughts. They will definitely help. I am sorry these issues are not often mention in university courses, but it is never too late to learn. Blessings.
irriewel1402
said on 1 August 2012 10:42:
I agree completely with Caes. As an English teacher in Taiwan, I have made some great friends amongst my students - even though I mostly teach Junior and Senior high school kids. I found that by sharing some personal detail about myself, I got them to open up a little more, and see me as a person, not just as their educator. They are far more relaxed in class than would have been otherwise. I have also visited and "partied" with some of my students outside of the classroom, but that was always preceded by a special chat about the difference between me being their teacher while in the classroom, and me as their friend outside the class. I feel, though, that it was my years of experience as a teacher that helped me find the correct balance between teacher and friend. It's probably not a good idea for a new or inexperienced teacher to try this.

caes
said on 31 July 2012 18:26:
I think that it's possible to maintain a relationship outside the class that is maybe more intimate and at the same time have a professional attitude to the same person in class. What's important is to set the boundaries immediately so that the person knows not to mix the two.
Information

| | |
| --- | --- |
| | Please register to leave comments. Registration is free and takes only a minute! |