BusyTeacher Home » ESL Essentials » Do I Really Have to Wait 5 Years to Speak English? 10 Conversational and Academic Phrases to Get Students Speaking and Writing in No Time
Do I Really Have to Wait 5 Years to Speak English? 10 Conversational and Academic Phrases to Get Students Speaking and Writing in No Time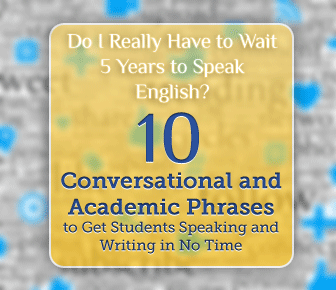 When students used to ask me about how long it would take to learn English, I'd usually mumble something about an appointment and hurry away.
I didn't want to tell them the cold facts: conventional wisdom, as well as research, suggests that it takes about 3 years for conversational proficiency and 5 years to learn a second language at a level to function in an academic setting. And while knowing these facts has kept me from investing in programs that claim a second language can be learned in two weeks, it has also somewhat discouraged me from pursuing further study in my own second languages, knowing the amount of time involved. And while I would certainly want to dissuade my students from investing in dubious language programs, I don't want to discourage them from studying a second language altogether. Most of all, I want them to experience some immediate success with English. Small, immediate success helps students communicate in their second language and also motivates the learner to keep studying—necessary because language learning is a long, arduous task that requires persistence.
One way to help students with some immediate success in second language learning is through teaching some useful phrases.
So instead of the first lessons in English being taken up with learning the verb "to be," students should learn some language that is used a lot in speaking or writing, that students need to understand, and that they can take out that day and use and actually simulate some fluency in doing so. Prefabricated phrases, or ready-made phrases, like "How's it going?" help toward these ends; in fact, research suggests language is actually learned and stored in memory in these phrases.

10 Most Useful Academic and Conversational Phrases
1

"On the other hand"

Signaling contrast, this phrase is often used in both writing and speaking. It has an intuitive appeal: most speakers can see the literal relationship of indicating a point (e.g., going out for Mexican food) "on one hand" and its contrast (e.g., going out for Chinese food) "on the other hand"--sometimes even holding up their own hands when enumerating the points.

Strangely, however, although they understand the phrase, even native speakers sometimes mess up the form: "on the other hands," "on a other hand," etc. If students learn the form as a "frozen" one—e.g., it never changes—then this will clear up some errors.

2

"By the way"

This is a useful phrase for raising a point that the speaker has just been reminded of: e.g., "By the way (speaking of summer), have you had the air conditioner serviced?" Students often mishear this: I've seen it written "byderway," which is what it sounds like, approximately. Therefore, teaching students the correct spelling and pronunciation gives them a useful tool in raising an important issue. It should however be noted that teaching students the literal meaning of phrases is often counterproductive: the literal meaning of "by the way" is only peripherally connected to its actual use.

3

"As I was saying"

This is another useful phrase for returning the conversation to an earlier point, often after having been interrupted: "As I was saying, it's getting late, and we should go." Since the phrase often serves as a gentle reminder that you were speaking and had made a point, it is especially helpful to ESL students, who might frequently be interrupted due to their uncertainty with the language.

4

"At any rate"

This is a phrase often used to sum up a conversation and bring it to a close: "At any rate, I don't know why the instructor is not here, but I need to go now."

5

"I want to/I don't want to"

These are among the most common phrases in the English language and serve as sentence stems: they can be followed by almost any base verb: "I don't want to go." Learning how they are pronounced in rapid speech-- "I wannuh" and "I don't wannuh"-- and how they are used will expand students productive language.

6

"Do you know if—?"

This is another phrase that if learned the way a native speaker says it in rapid speech ("Duh yuh know if--?") can expand students' fluency and productive speech because it can be followed with almost any short affirmative sentence: "Do you know if class meets at 8 am?"

7

"Would you be willing to—?"

This useful phrase signals a request in a very polite way and can be followed by almost any verb phrase: "Would you be willing to give me a ride home?"

8

"What does X mean?"

This is especially as useful classroom language. Almost any word can stand in for "X," and students can with this phrase expand their vocabulary.

9

"How do you say X?"

Like item 8 above, this is also useful classroom language for expanding the speaker's vocabulary. Again, if learned as a native speaker would say it ("Howd'yuh say—"), it can also simulate fluency.

10

"For example"

This phrase is especially useful in writing and can be used to expand on a certain point: "San Francisco has many great tourist attractions. For example—"

Methods for Teaching Phrases
There are numerous ways to teach the frequently used phrases of our language. One such method is simply to call attention to the phrases we use in speaking and writing: "Why did the actor in the TV show say 'at any rate'? Why does the author use 'on the other hand' here?" Part of language learning is to understand speakers and writers actually do use the language learned in the classroom: it is not just an academic exercise.
1

Fill in the Blank and Matching

Both of these exercises are great for learning form and meaning:
Fill in the blank: on__other hand
Match: on the other hand an opposite point

2

Apply a List to Conversation or Writing

Hand out a list of phrases; give students a writing topic or speaking topic, and tell them to write or speak, working in three or five phrases from the list.
Language is learned mostly in phrases that are used again and again.
It is also probably stored in memory in phrases: when I think of my second languages, for example, what comes to mind are a few often-used phrases: "Ya ne znayu," in Russian ("I don't know"); "comment dit en francais—" ("How do you say in French—") and "Viyudaber Moishe" in biblical Hebrew ("And Moses said—"). Even today, if I throw out one of these phrases, I'll get compliments from native speakers on my strong second language skills. I've actually plateaued at a low intermediate level in those languages, but I've learned a few phrases very well. And if I go to a Russian or French speaking country, I can get around and could advance further with study. Learning often-used phrases in your second language has strong practical, academic, cognitive, and motivational value.
Rate this article:
was this article helpful?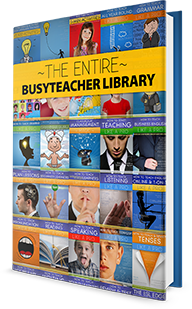 The Entire Busy Teacher Library:
61 current titles + all future titles (free!)
Truly, we might be a little bit crazy, but we know that at this point in the term, things are tight for teachers, and you need a little help, which makes it the right time for our best deal ever. For just $99, you will immediately receive all 61 of our current, bestselling titles. Within a few minutes, you'll have thousands of new BusyTeacher expert approved tips and tricks for teaching grammar, vocabulary, pronunciation, and students at every level from beginner to advanced.
Get it right now - limited time offer ›
Trending Articles right now:

IssyC
said on 14 September 2013 07:42:
This is exactly how I "learnt" Czech when I was teaching there. With seven possible noun endings and 3 "sexes", it was hard to find the time to study (and understand!) it properly. So my Czech colleagues and students would write me sentences and I'd repeat them and hey presto ! I was "speaking" Czech :-) I learnt more and more in the 3 years I was there and was even beginning to understand replies to my questions :-)

elbadia
said on 22 February 2013 00:32:
That's what I always defend when talking about language learning: if you
teach me to ask for a glass of water in English I'll feel eager to use it in real life situation, but if you teach me the
grammar rule to make that statement I may feel hesitant when I'm really thirsty...


analuciamendesgarcia
said on 23 January 2013 13:31:
I'm a Brazilian EFL teacher and I totally agree with the need to provide students with such phrases. Thanks for making this article available.

guzumlala
said on 21 January 2013 12:38:
This article has been most useful in understanding why my students are reluctant in attempting to speak in L2....I still feel that they are also intimitaed by my Aussie accent...any suggestions for this problem....thanx once again

taukritu
said on 6 January 2013 01:50:
Wonderful article , infact easiset way to get started. Recently i bought a book from OXFORD- FOR PHRASES.

paulinakowalewicz
said on 18 July 2012 07:56:
Thank you.

mariel0105
said on 23 June 2012 02:42:
I think, it's really interesting because they can "taste" authentic language and can put it into their conversation and feel they have meaningful phrases to use rightaway. Thanks for the idea.

Stacia Ann
said on 21 June 2012 18:24:
Koan and Mcargoby: Thanks for your interest. I'm considering writing a follow-up article to this one, with more specifics on phrases/exercises, because the topic seems to have generated some interest.

A work I recommend on this topic: Nattinger and DeCarrico (1997). Lexical Phrases and Language Teaching. Oxford University Press. In the book, the authors demonstrate how different phrases can be used to complete a conversation and essay, for example, and there are also learner exercises.

Sabrady, I'm almost certain it is "Comment dit en francais"---not that I'm an authority on French, but that is one of the phrases I've learned well:) "Dire," I believe, is the infinitive or unconjugated form: "to speak." I agree completely with your point that an ESL teacher should have had the experience of learning a second language, even if not well. When you've gone through that experience, you understand the process of learning a second language, and you understand a little more about your own language, English--what an infinitive is, for example, or a passive form.

Thanks for sharing your ideas, all!
Stacia

koan1
said on 21 June 2012 01:30:
Thanks so much but it would be even more useful if you'd included some exercises teaching that...


MCARGOBE
said on 20 June 2012 13:52:
Do you have a handy list of set phrases to teach at different levels? Where could I get them?
Thanks in advance!
CARMEN GMEZ

sabrady
said on 20 June 2012 09:10:
Comment dire en franais... Very good article! I truly believe that learning other languages, even just a little, really helps up improve our skills as an English teacher. In some courses, notably when learning to become a French (FSL) teacher, it's compulsory to learn a quite different language such at Vietnamese, Turkish or Rumanian. This article goes some way to explaining why.
Information

| | |
| --- | --- |
| | Please register to leave comments. Registration is free and takes only a minute! |