Trending Articles right now:
So What Book Are You Using? How to Select (or Not Select) a Great ESL Textbook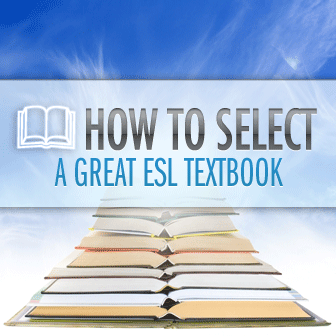 Often when in the teacher's room, another teacher will ask me, "So what book are you using?" I used to smile at this: "What book are you using?" not "Who are your students?" or "What level of class do you have this semester?" It seemed a pretty shallow question.
However, through experience, I no longer view it this way: what book a teacher uses—or doesn't use—reveals a lot about her teaching style and curriculum.
For example, a teacher who uses Azar's grammar series, with its clear charts and explanations of grammar points, probably takes a rather traditional, structured approach to grammar. The teacher's colleague who uses Molinsky and Bliss's "Side by Side" series probably takes an audiolingual approach to language instruction, with a focus on oral language and repetition of patterned drills. If I'm not familiar with the textbook the teacher names, I can find out about from him, perhaps look over a copy if he has one, and I might decide to try it next semester for my own class. Traditionally, in fact, before the electronic revolution, the textbook was considered the cornerstone of a class, much of the curriculum and instruction based on it.
So how do you go about choosing an excellent textbook for your class? There is a process that will ensure picking out a strong, if not ideal, textbook.
How to Select (or Not Select) a Great ESL Textbook
1

Get to Know Your Students

Find out as much as possible before your class meets about your students. How old are they? What level of English speakers? What motivation do they have for learning English: academic, vocational, social? Do they live in or outside an English-speaking country? Are they long-term residents or newly arrived? Answers to these questions will provide you with information needed to choose materials: you wouldn't want a text based on conversational American English, for example, for a population living outside the U.S. and wanting to study English primarily for succeeding in a British university.

2

Get to Know Publishers and Their Websites and Representatives

It is through these channels that you will get the most up-to-date news on what's available. You can also sign up to receive print or electronic updates on their merchandise. Some major publishers for ESL are Pearson Longman, Heinle and Heinle, Cambridge University Press, Prentice Hall Regents, and Oxford University Press. They all maintain extensive websites on which you can view material; many still offer a traditional paper catalogues as well. In addition, many publishers have sales representatives who cover certain areas, like northern California, who once you have contacted the publisher once, will check in with you regarding materials needs for the next term.

3

Select Options

Now that you know something about your students, and you know some of the publishers, you can begin checking out some of the materials. Most publishers divide their materials by level and skill. For example, say I've just been assigned a class of advanced level reading for the fall. In looking at Cambridge University's online catalog, I first selected "ESL," then "teachers," then "English for Academic Purposes," for students studying for the purpose of entering college. I then scrolled down the resources that came up—many writing texts but only one reading, Making Connections, which has three levels of readers at the intermediate level, low intermediate, intermediate, and high intermediate, and is based on academic text, for the purpose of academic preparation. This text looks very promising even though my students are called "advanced"—"advanced" is relative, depending on the program—and the books are intermediate. I'm going to look up the name of my Cambridge representative and see about an exam copy. Some sites also allow you to view chapters of the book.
Once I have either the book itself in front of me or pages for view on my computer screen, what should I look for? There are several features you should consider in making the final selection.
Final Considerations in Selecting a Text
1

What is the ratio of print to pictures?

Is there too much dense print for students to comfortably read? Or perhaps, as is often the case with textbooks at the secondary level these days in the U.S., are there too many pictures and graphs and print to really process effectively? There should be a comfortable balance between print and nonprint material: what that is varies teacher to teacher and class to class. For a reading class, for example, I wouldn't want tons of dense print but also no more than one image or graph per page.

2

What kind of activities are students asked to do with the text?

How will it fit into your overall class? An ESL textbook is not just for reading, of course. Even with my reading text, I'd want prereading and postreading questions, to help students process and understand the material, and I'd want there to be discussion points at the end because interaction between peers is especially important in an ESL class, and I'd want essay-type questions related to the topic to practice writing skills.

3

What other features does the book offer?

Are there CDs or DVDs? Are they extraordinarily expensive? Is the textbook itself expensive? Too expensive for students? Weigh the value of the text against the cost. Make sure that you, your students, and the school are getting good value for the money.

4

Is the text part of a series?

Many ESL texts come in leveled series. For example, American English File and American Headways, both through Oxford University Press, are leveled series from beginning to high intermediate. If you like the text, and it is part of a series, this can be helpful to your ESL program, or your multi-level class, as students would have a uniform text and activities across levels.

5

Is there a website?

Many ESL books, especially if the book is one of a series, have accompanying websites. Longman's Side-by-Side, for example has podcasts, author interviews, and links to standards information. The website for the Azar grammar series has a blog for teachers. There are websites that are more student-focused, such as the one for Oxford University Press's American English File, which has a student site with supplementary activities for practical English, pronunciation, vocabulary, and grammar games. This site is especially helpful for the student who finishes her work quickly and needs some extra activities to keep busy.
Clearly, a lot of considerations go into choosing the right textbook.
However, by knowing where to go and what questions to ask, the teacher can pick out the perfect text for her class to keep them engaged.
Rate this article:
was this article helpful?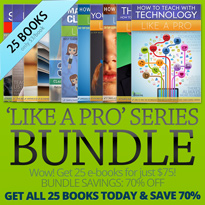 Get 25 'Like a Pro' ESL E-books at 70% OFF!
Don't miss this unique opportunity to get the complete 'Like a Pro' series (twenty-five phenomenally popular ESL best-sellers) at only $3/book. Unbeatably priced, this Bundle literally saves you hundreds of dollars and fits your budget just right!
Get all 25 e-books right now ›
niamadpour
said on 26 August 2012 13:53:
Dear Dr. Levy,
Thanks for the useful information. Very comprehensive. I live in Iran and I've been asked to teach 5 adult people who want to sit the IELTS in two years. They're real beginners and I've told them not to expect much in a short period of time. So, I decided to focus on basic reading, writing, speaking, and listening skills. Here are my questions:

1. Since IELTS questions (listening modules) are mostly asked with a Bitish accent, is it necessary to choose a British textbook to get them accustomed to British accent?
2. Do you believe in "Familiarity breeds contempt", when talking about Headway series considered as Old fashioned textbooks?
3. Do I need to ask them to have some graded Story books at the very beginning? (Since reading and writing in English are more important in Iran)

I'd really appreciate your advice. Thank you so much. :)

Stacia Ann
said on 8 June 2012 05:53:
Hi, Yeira! You have a very good system for choosing a text and reasons to have a text. Although they are generally very expensive these days, a strong textbook is a good use of money; students won't have to spend hours trying to organize material from different sources, and they can keep it on their shelves for years to refer to (although students often don't do this).
Stacia

Yeira
said on 7 June 2012 15:41:
I am an online teacher of English and I teach English to ESL students from Russia. I always choose textbooks for my students. While choosing a textbook I take into consideration the following factors: 1) The student's level 2) Their educational purposes 3) The time they can afford to spend on their homework. Why am I pro-textbooks? Firstly, textbooks are written by experts and the material they use is always thoroughly selected. Textbooks always give students an idea of what vocabulary and grammar they are going to study. They also have a clear idea of the skills they are expected to develop. What is more, lots of textbooks have their web pages where one can find some supplementary materials (online tests, various activities). But I also make use of authentic materials I can find on the Internet (news programmes, videos, etc.), as they complement the basic information my students find in their textbooks.

Stacia Ann
said on 2 June 2012 20:06:
Hi, Ivanhoe! I think a lot of teachers' experience mirrors yours, with more institutional rather than teacher control over textbooks. There tends to be a little more teacher freedom in the U.S. And I do talk to more and more teachers that rely on great websites, like this one, for their resources!

Ivanhoe2011
said on 2 June 2012 18:50:
I used to work for the Department of Education in my country (Puerto Rico) but unfortunately the director of the English program was the one in charged of deciding which textbook was to be used through the island and teachers had no say whatsoever. Yet that didn't stop me from using other textbooks I had acquired throughout my career. I also used many websites especially the ones that offered free worksheets. Today I work at an after school program for talented students in the areas of math, sciences, technology, and languages but besides using a textbook, which I chose, I use a variety of websites to reinforce language skills.
Information

| | |
| --- | --- |
| | Please register to leave comments. Registration is free and takes only a minute! |