Trending Articles right now:
Excuse Me, Teacher, Can I Go to the Bathroom: Managing Interruptions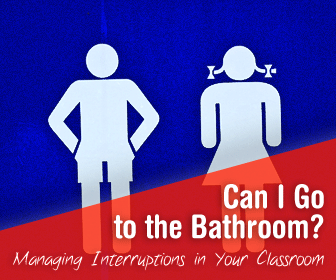 You are probably familiar with the scenario: you at the front of the room, in the middle of lecturing on some important grammar point, when someone raises his hand.
"Excuse me, Teacher?"
You are annoyed but pause long enough to ask, "Yes?"
"Can I go to the bathroom?"
There is scattered laughter. And the surprising thing is that this is not second grade, as you might be assuming, but rather a group of ESL adults. However, they may have had little previous formal schooling or come with widely divergent notions of what is appropriate classroom behavior. The other extreme of this situation is the student who pauses outside the door, waiting for the teacher to give permission to enter, when arriving late. Both of these behaviors are not quite appropriate for the situation, and in all likelihood the student in both cases just hasn't been taught appropriate American classroom behavior, specifically when one may interrupt or intrude. The question then becomes which behaviors are most important to teach for the classroom, how to teach students methods to politely interrupt, and for the teacher to manage the interruptions in her class.

Methods for Managing Classroom Interruptions
1

Set the Tone You Want

Every teacher is different; every classroom is different. Some teachers are bothered by students getting up to go to the restroom during class; others are not so bothered by it but are driven crazy by cell phones going off. Put what you would like students to do regarding "emergencies" needs to leave class and use of electronics in your syllabus so the expectation is clear from the start.

2

Enforce the Expectations

In the beginning, especially, expect there to be some challenging or misunderstanding of the expectations. Students may not have fully understood your rules, or they are so used to lack of rules in their other classrooms that they will continue to blithely receive calls during class or get up to leave during the lecture. Usually all that is required is for the teacher to remind the class in general of the expectations. Sometimes discussing the reason for the expectation also helps: so that we can concentrate on our studies, so that students can hear my lecture without confusion, and so forth.

3

Addressing the Individual Interrupter

Sometimes most of the interruptions come in the form of one student. You have just begun to introduce a topic, and the first sentence isn't out of your mouth before her hand shoots up, and she begins talking—usually not on topic because she probably hasn't been listening.

What to do about this kind of student? When she interrupts you while you are teaching, you may tell her kindly that you aren't quite finished, and she may make her comment when you are finished. This rarely extinguishes the behavior on other occasions, however. I have found it helpful to meet with this student after class or during break to give additional attention because often the behavior results from some insecurity in the student—feeling older, or poorer, not as intelligent, etc., than the other students, and the feelings—whether or not they are a reality---cause the interruptions and need to seek attention in this way. If the instructor shows some positive attention and individual support of the student, the interruptions may diminish.

4

Addressing Group Interruptions

Sometimes the continual interruptions come from the same core group of students. This is a little harder to handle as confronting one of the group will make him or her feel singled out and defensive; if you try to meet with the whole group they may deny that they are acting as a group—which may in fact be true; they may be subconsciously patterning their behavior off one another. When there is a core group of students engaging in undesirable behavior, it usually indicates an overall problem with class climate, and the best course of action is for the instructor to address the class as a whole, reviewing your policies and expectations. In most cases, this will address the problem.

5

Dealing with Institutional Interruptions

What if the interruptions are institutional in nature? Sometimes they are: your class time seems to be the time when the guys with the leaf-blowers get under your windows, or the custodian decides to come in and fix the pencil sharpener with a drill, or the tech folks have to come in and check the computers' connectivity, etc. Even some colleagues are extremely social types and feel the apparent need to knock on your door for a quick chat or question while you are teaching. So what can we do in these instances?

Again, it's fairly easy when it's one person to simply say, "We're in class right now. Please fix that/clean that/talk to me later."

Sometimes, however, students become interested in the interruption, what the technicians are doing to the computers, for example, and I've allowed them to go over and watch for a short time. Sometimes the student who interrupts your lecture brings up a valid, if totally off topic, point, and it becomes a "teachable moment." So if you can't beat 'em, join 'em: sometimes the interruption to the class becomes the class. These are rare occasions, however. In most cases the class should be guarded against interruptions.
Interruptions are ubiquitous in the classroom.
This is probably emblematic of how little regard our society has for the educational process: few people would interrupt a doctor when she's talking to discuss some other totally irrelevant point, or take a quick phone call, or barge in (or out) of an exam room unpermitted; however, we feel free somehow to do this with teachers and the classroom. However, our students are given so little class time to begin with that teachers much jealously guard it against the continual interruptions.
How do you handle interruptions in your class?
Rate this article:
was this article helpful?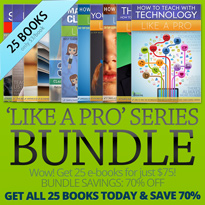 Get 25 'Like a Pro' ESL E-books at 70% OFF!
Don't miss this unique opportunity to get the complete 'Like a Pro' series (twenty-five phenomenally popular ESL best-sellers) at only $3/book. Unbeatably priced, this Bundle literally saves you hundreds of dollars and fits your budget just right!
Get all 25 e-books right now ›

Kepicuda
said on 26 July 2012 01:58:
In my school students wear a kind of necklace with a tag that says "restroom" so they know other students are waiting for them to come back, this way they dont take long and people can see why they are out of the class, I think this works with younger learners.

Stacia Ann
said on 14 June 2012 06:24:
Hi, Novatar! Good question--classroom management is almost everything in teaching, whatever the level.

You might check out the book "The First Days of School" by H. Wong. I have not read it yet, to be honest, but I've heard a lot about it recently because nearly everyone quotes it on the topic of classroom management, and I've heard that Mr. Wong takes a perspective of positive classroom management--that is, focusing on rewarding good behavior.
You're also likely to find in the book a reference list of the most recent expertise on the topic.
Hope this helps; let me know!
Stacia

miss yara
said on 13 June 2012 18:52:
very nice thank you for your efforts to help teachers , I'm teaching English as a second language I want to write a research about classroom management and I need your help to find resources and I need alot of materials about this subject , can you help me , please?

Stacia Ann
said on 5 June 2012 17:29:
Interesting, Carissa. I have actually heard recently of this--you know that phenomenon, once someone mentions something and it is brought to you consciousness, everyone seems to be talking about it. Anyway, I have heard several times recently of the outer doors to high schools being locked, but not individual classroom doors, which seems to me might even violate fire codes. And I have never seen it practiced, but customs may certainly have changed since I was in high school. It may be a security measure today as well, in large urban areas, to keep the doors locked.

However, aside from locking the door, I think deducting points for tardiness sends a pretty strong message. In college there was a class I was consistently late for, a class I was earning an "A" in. Imagine my chagrin at seeing my "C" grade at midterm due to tardiness! I wasn't late after that.

Stacia

CarissaPeck
said on 3 June 2012 20:32:
My highschool had lockout. If you showed up one minute late the door was locked and you were marked absent. After 5 unexcused absences you couldn't pass the class (unless you mad up absences by coming in to Saturday school.

Stacia Ann
said on 31 May 2012 21:11:
David, I like that solution of the notice on the door, the threat to lock it. Students suddenly develop punctual habits when lateness directly affects them:)

It would be more typical in U.S. classrooms to deduct points for late arrivals, not lock the door. I've been associated with American higher education in one form or another for 30 years and never saw anyone lock a classroom door. Indeed, American culture is so rigidly codified I can imagine this would be a violation of several laws.

But I'll bet the threat is enough--you won't ever have to enforce it.

Great ideas here!
Stacia

daviddd
said on 30 May 2012 10:37:
I teach a one-year ESL university course at C1 levelin Slovakia and was fed up with a small number of students coming in from
9.30-9.55 (class starts at 9.30).
So I scoured the internet looking for solutions.
Whilst stopping short of locking the door for the first 15minutes or so as I found out happens in American universities,
I placed this notice on the door. It works.
It's best to do it from the beginning of the course and alert students to it. I started it in January and there were one or two
sulky faces during the first week, but they got over it.

NOTICE:

If you arrive AFTER 9.35, please WAIT quietly outside the room.

The teacher will come to the door some time between 9.35 and 9.50
to let you in when he judges that your entrance will have a minimal,
or no disruptive effect, on the conduct of the lesson.

IF THIS NOTICE IS ON THE DOOR, IT MEANS IT IS AFTER 9.35,
WHATEVER YOUR WATCH SAYS.

IF ARRIVING AFTER 10:00, PLEASE KNOCK AND WAIT.

Stacia Ann
said on 28 May 2012 05:09:
Hi, all. Highlighted here are some of the real dilemmas of interrupting: the students who just need to tell you that they are going to the bathroom and why they are late (interrupting as they do so).

Ways I've dealt with this is to tell students at the beginning of the semester to leave class quietly if they need to and tell me why, if they must, after class. Same for coming in late: tell me the reason, if you must, after class, but in the meantime just sit down and try to catch up. I place a big emphasis on not interrupting.

I understand my classes are with adult students, but they also sometimes need instruction in polite behavior (e.g., even the word "bathroom" is considered too direct and not mentioned most of the time in U.S. culture--"restroom" or "men's/ladies' room is preferred.)

It can be frustrating, but most of the time the student is so focused on her own problem that she doesn't realize she's being rude.
Stacia

harrwin
said on 27 May 2012 04:29:
Do you know what is really annoying? I am at the front of the class, trying to give them instructions on the activity we're going to do, and suddenly this kid comes out of nowhere, nonchalantly steps RIGHT IN FRONT OF ME and asks me something that has absolutely nothing to do with anything at all. And the irritating part is not so much the blatant interruption but that the kid is utterly oblivious to everything: that he's interrupting me, that he's being disrespectful, that we're actually doing (or trying to do) something. And while I try to tell this kid that I'm in the middle of something and that whatever his questions is it should wait, I already lost the attention of the class.

CarissaPeck
said on 25 May 2012 00:01:
In Spain with the pre-schoolers they would often ask in Spanish, "me hago pis" (literally it's more of a I am going to make pee) but it was an easy transition to, "May I go piss" not the most polite but easy was key for three year olds :)

In Korean I believe bathroom is "Hwa-jang-shi" (or something) so maybe try to keep with the syllables and just a, "May I go pee?" Again, this isn't the most polite way to ask, but once they have the habit you can get them to change it to something a bit more polite.

@Stacia It is so true that students need to realize school rules can carry over to real life.

Stacia Ann
said on 23 May 2012 16:04:
Gaminx,
That is quite funny--and surprising; Americans have a set of notions about how well-behaved and polite students in Asian countries are that aren't always valid.
Do only the boys do that, may I ask, or also the girls? :)

Stacia

gaminx
said on 23 May 2012 10:33:
What is quite funny is when my junior Korean students ask to go to the bathroom by grabbing their crotch Michael Jackson style and pointing at the door... I've been trying to teach them "Please may I go to the bathroom?" but it hasn't caught on yet.

Stacia Ann
said on 21 May 2012 04:38:
Hi, Carissa. I really like your suggestions here, particularly telling students they are responsible for what they miss when out of the classroom, for whatever reason. This is a "real world" consequence. If I choose to leave the room during a live performance, for example, I'll be lucky if the ushers allow me back in because this disturbs other patrons. And the only person who might help me "catch up" on what I missed is my companion to the performance at intermission--if he's not too annoyed with me:)
I like putting responsibility for their choices back on students like this.
Thanks for sharing--
Stacia


CarissaPeck
said on 21 May 2012 01:30:
I teach collega dn high school so my students are not THAT young. I tell my students that they can use the bathroom whenever they like, but they are responsible for the information they miss and repeated bathroom breaks or prolonged bathroom breaks will be factored into their participation grade. The "good" students wait until it is individual work and hurry back. Others will use it as an excuse to meander the halls. I usually let them know when they come back in that I noticed they spent 16 minutes out of class and from now on they are not permitted to use the bathroom during my class.
Information

| | |
| --- | --- |
| | Please register to leave comments. Registration is free and takes only a minute! |