Beating the Mid-Semester Blues: Get Out of the Rut with a Little Variety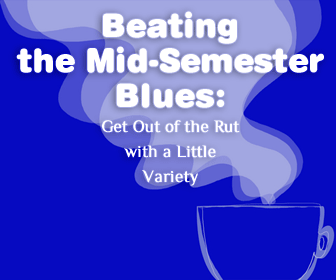 The middle of the semester is the calm after the storm. You now know all of your students' names, and they know the routine: what to do when they come into the class, what activities they will work on each day, and which students to work with. Class friendships are beginning to form. Students come in each day, find their seats, take out their books and materials, and get to work immediately with their peers.
Sounds wonderful, right? Yes, an orderly class really is great because interaction and learning are able to take place with minimal fuss. So what's the problem? Well, it's a little… B-O-R-I-N-G! Activities can become too routine and familiar. The problem becomes how to balance the routine with some variety while maintaining control of the class. This can be done with a little creativity.

Keys to Beating the Midsemester Blues
A well-run class can be a joy, but there is the chance of falling into a well-worn routine, especially at midterm.
However, by varying the routine, media, and materials, and increasing interactions and connections, midterm can be a time of high interest rather than boredom.
Want more tips like this?
ESL Teacher Tips from A to Z:
New lesson ideas you have never heard of!
Lesson enhancing tips for every letter of the alphabet and 8 hi-res posters as a bonus!
YES, show me sample pages ›
30-day money back guarantee 100% secure
Enjoyed this article and learned something? Click the buttons below to share it!

Print
Rate this article:
was this article helpful?
Trending Articles right now: