<!– google_ad_section_start –>Gypsy Role Play<!– google_ad_section_end –>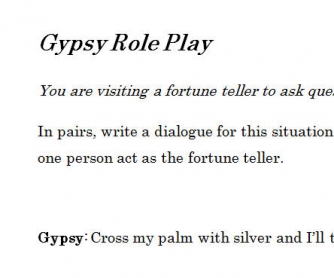 A role play is a great way for more advanced students to practice spontaneous speech. I teach the students the phrase "cross my palm with silver and I'll tell you your future", and, as a class, discuss questions one might ask a fortune teller. The students work in pairs with one playing the role of a gypsy fortune teller and the other playing the role of the customer. I encourage the students to use the phrase "you will" to start off the fortunes.
Similar Worksheets
Comments about "Gypsy Role Play".