<!– google_ad_section_start –>Mr. Bean Activity<!– google_ad_section_end –>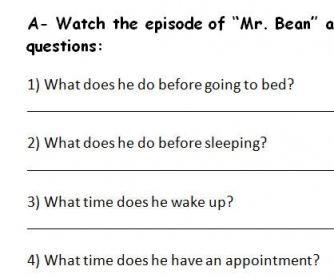 This is a worksheet I prepared to my teens students who were studying simple present and daily routines, adverbs of frequency and free time activities. Nice one to practice grammar, they have to work on negative forms; writing, they write a mini compositions about themselves; reading, after writing they can read each other's; and speaking, they always wanna say what they do on their weekends. It also works with adults.
Similar Worksheets
Comments about "Mr. Bean Activity".