<!– google_ad_section_start –>
Making Comparisons Worksheet

<!– google_ad_section_end –>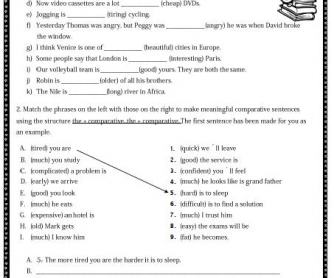 This is a worksheet for teaching degrees of comparison.
Students are asked to complete the sentences using the correct form of the adjectives in brackets and match the phrases on the left with those on the right to make meaningful comparative sentences using the structure the + comparative..the + comparative.
The answer key is included.
Similar Worksheets
---