<!– google_ad_section_start –>
Weather Forecast & Dress Advice

<!– google_ad_section_end –>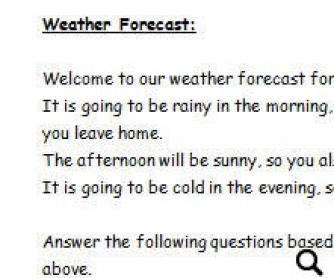 First, the purpose of this worksheet is to let the students have the listening test in which the teacher will read the weather forecast. The next part is to let them choose the correct dress advice in a particular weather condition.

The students will not only learn about the weather but also the expressions such as: put on, take off and take.
But before starting the 2nd part of the worksheet, make sure to explain to the students what the expressions mean because some of them may only be familiar with remove, wear and bring.
Similar Worksheets
---