<!– google_ad_section_start –>
Stuff and Things

<!– google_ad_section_end –>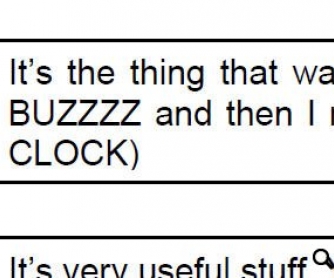 Students practise using all-purpose words like "stuff" and "things" to ask for things they don't know the word for in English.
Rationale: This class focuses on communication strategies. Fluent speakers of a foreign language often develop such strategies to help describe objects more quickly.
Preparation: Make some overhead transparencies with different pictures of everyday things on them that students could describe.
There is a list of things you can use below: a vacuum cleaner a sponge a cigarette lighter adhesive tape salt a computer mouse a compact disc ketchup
Similar Worksheets
---