<!– google_ad_section_start –>
Superlative Presentation: Degrees of Comparison Worksheet (WITH AUDIO)

<!– google_ad_section_end –>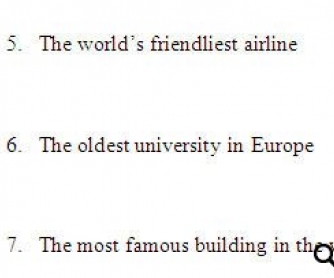 This is a worksheet where students have to answer questions about something being 'the most ...' by guessing or discussing in pairs or groups. After you have heard their ideas, play the audiofile.
This works very well when presenting the superlative degree or as a quick recap.
Enjoy!
Oh, and if you know any other nice ways of presenting the superlative, why don't you share them in the comments?
Similar Worksheets
---