<!– google_ad_section_start –>
WH Questions - Games

<!– google_ad_section_end –>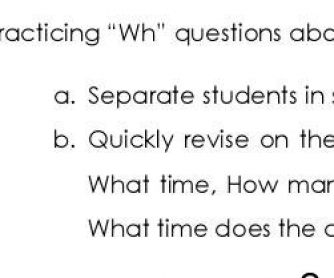 Hello Folks! This worksheet is actually a "Back to School" lesson plan to review WH questions with students throught games. Students will be able to prepare questions and answer them during the class. 1 hour is enough to apply all the games and students will be motivated to create interesting questions to the teacher on game 2.

This worksheet can be used for a group of 8 or more students.
From admin: please remember to select the 'Back to School' category when submitting any further worksheets if you want them to participate in the Back-to-School contest. Thank you!
---