by Haiden
50,676 views

If you have your lesson plan, but you're struggling with the materials to bring it to life, you're in the right place. Below we've hand-picked 21 of our favorite irregular verb resources that are fun and engaging for your class.
Looking for something more traditional? We love this irregular verb worksheet, or you can check out the whole worksheet collection here.
Irregular Verb Bingo
Playing games in class is a great way to keep your students engaged. This downloadable irregular verb activity is fully customizable and includes questions that correspond with the Bingo squares, adding a layer of trivia - or an additional study opportunity - to the game! It also comes with printable cards, which are also fully customizable.
If that's not quite your thing, we have another modified irregular verb Bingo game on the site as well that uses a soft ball - like a stress ball.
You say an infinitive and then throw the ball randomly - but gently! - to a student. The student then has to say the past simple form of the verb before throwing the ball back to you.
Set time limits if there's a lot of hesitating to keep the momentum going and see how quickly you can pass the ball around the class.
Boardgame
Not that Bingo isn't a board game, but this downloadable board game is great because students can play in groups or pairs. You'll need dice, counters, and - of course - the board.
When students land on a square, they need to make a sentence using the verb of the square they landed on.
You can modify the rules in any way you see fit.
For example, do your students need to use that exact word they land on or modify it to past simple and make a sentence with that word?
It's up to you!
Irregular Verb Crossword
This crossword uses irregular verbs, but you can change the rules if this won't challenge your students enough. You can give them sentence clues, ask them to convert the given words to past simple, or anything else you can think of!
Poem
This isn't quite what it sounds like, and I'll admit, it's certainly not what I expected when I opened it. This is a worksheet for a poem - but it's a poem that your students need to pick the right words for.
For example;
If time has (come came) when it aches
To (learn learnt) irregular verbs by heart
Just (have had) the time it takes
Students need to take the correct verb and write it next to the line in the provided space to make the poem make sense.
Pronouncing Irregular Verbs
Pronunciation of new vocab is often tough - and confusing - for students. This irregular verb printout offers some help with pronouncing irregular verbs in the infinitive, past simple, past participle for irregular verbs.
It's short, easy to read, and easy to scan - but looks a bit intimidating.
We have another resource that's a bit less…. scary-looking. This printout for pronunciation offers pictures, definitions, and various tenses, as well as pronunciation.
We have one last pronunciation printout for irregular verbs - this one, however, was made specifically for French students who are studying English.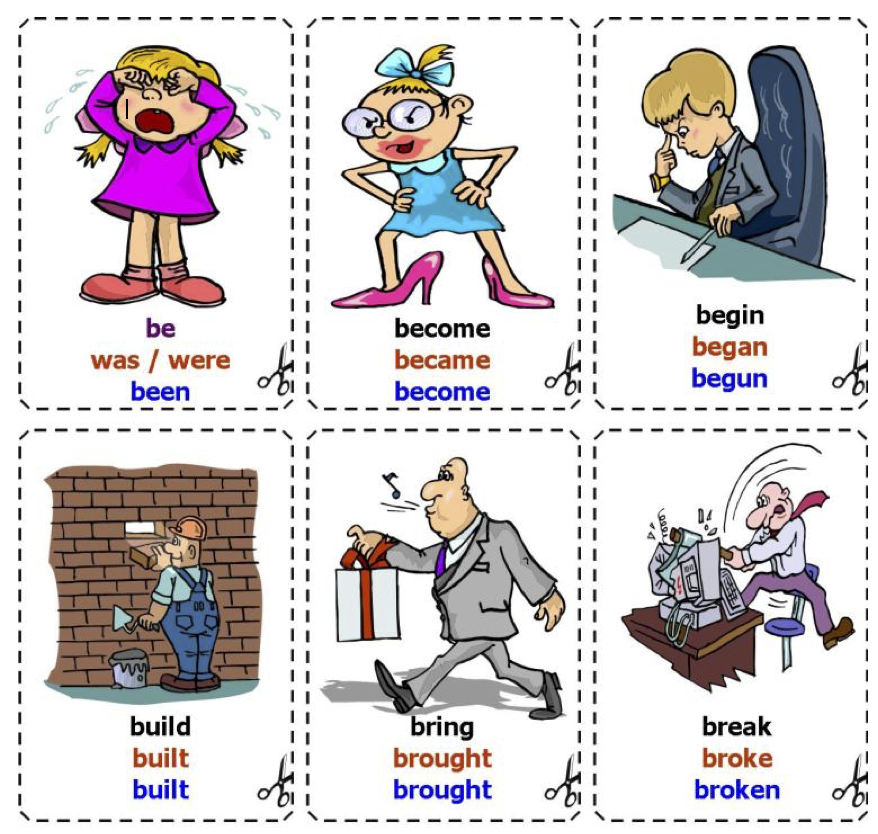 Study Resources
We love the printouts above, but we have a vast resource full of additional study materials. We have two sets of flashcards (with pictures) for irregular verbs if your students are getting the hang of how to spell, read, and pronounce them.
Each set has 27 flashcards. You can get the first set of flashcards here, and the second set of flashcards here.
But we also have sets of bookmarks that contain irregular verbs that include the infinitive, past simple, and past participle of each verb.
Irregular Verb Tense
Teaching irregular verb tense - and how to get students to identify each type and when to use them - can be tricky.
We suggest starting with teaching present perfect and past simple first since those are usually the easiest to grapple with. If your students have already mastered those two, you can check out our article on teaching tense to your students or jump over to our hand-picked best verb tense worksheets.
Testing Out What They Learned
Of course, we have tons of tests, quizzes, and other ways to see what stuck with your students - but these are some of our favorites:
This short quiz is a customizable fill in the blanks-style quiz. Students are given a short story with blanks they need to fill in with the correct verb tense. They're provided the verb - but in a form that they'll need to convert to its past tense in order to get it right.
This longer test on irregular verbs involves students filling in the blanks as well. This time, they'll need to fill in two blanks for the infinitive, past simple, and past participle - depending on the tense that's missing.
For example, "Be" is provided for the infinitive, but your students will need to convert it to past simple and past participle in order to answer the question correctly.
And, finally, this last test on irregular verbs can be used as a test or a worksheet. Students are given the infinitive tense for all the verbs, but they need to put in the past simple and past participle tenses as well as provide the definition for the word.
More Resources For You
If you're still struggling to get your students to engage, we have a blog post about out-of-the-box activities for teaching irregular verbs to help you out. In fact, that blog post was so popular that we wrote a follow-up with even more out-of-the-box ideas!
P.S. If you enjoyed this article, please help spread it by clicking one of those sharing buttons below. And if you are interested in more, you should follow our Facebook page where we share more about creative, non-boring ways to teach English.