<!– google_ad_section_start –>
Old Classic Children Games (I Used to Play...)

<!– google_ad_section_end –>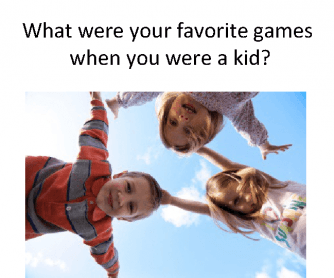 Instructions: First show the NAME of the game, and then ask if they know(don't let they translate, try to make them explain, e.g: Hide and Seek is when you hide and other person has to find you) if they don't know the game you act and mime the game and wait for they say: "OH! I KNOW IT" and then click on the interactive board and show the image and then they are going to have sure about the game they got right.

This slide is about old games, so it's not for young children or teens, it's for adults to talk about the past when they are learning "used to play/collect/do..." or you can use as "Have you ever played/collected/done .....).
There are lots of games such as Hide and Seek, Marbles and Jump Rope, so take a look before teaching them because you have to explain what they were like in case they had never heard about those (pretend you've played all of them).
Remember, let students talk more than you, with this slide I'm pretty sure they are gonna feel like talking.
Hope you enjoy this and so your students.
Similar Worksheets
---