Song Worksheet: Thank You For Loving Me by Bon Jovi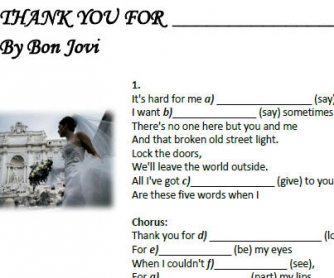 This worksheet can be used after studying Gerunds and Infinitives as a summing up activity.
1. Ask the students to fill in the gaps in the song with the approprate verbal (Gerund or Infinitive)
2. Listen to the song and check.

I used it with Upper-Intermediate students.


Similar Worksheets
---