<!– google_ad_section_start –>
Sinking Ship Speaking Role Play

<!– google_ad_section_end –>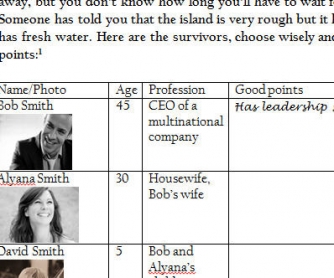 Students are given a situation - they are on a sinking ship and must choose 11 survivors to go in the lifeboat with them. The best way to do this is to give the students Page 1 & 2 which introduces only basic information about the survivors. Also, you may want to introduce the possibility of them not being rescued and thus having to build a community. When the students have decided on their survivors, you give them Page 3, which gives them a lot more information about the people.

CAUTION: for (young) adults and older teens.

Some of the "extra info" may be considered inappropriate in some cultures.
---