<!– google_ad_section_start –>
Compare The Pictures: Opposites Worksheet

<!– google_ad_section_end –>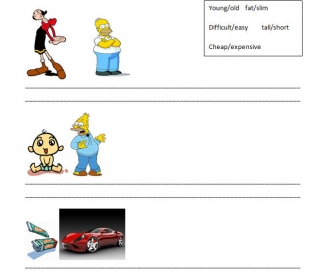 Word worksheet to use elementary opposite adjectives (old/new, old/young, fat/slim, big/small, cheap/expensive, boring/interesting...).
There are different pairs of pictures (things and famous cartoon characters) and students have to write sentences describing and comparing them by using the present simple of the verb to be and the opposite adjectives in the box.
It can be used to make affirmative or negative sentences.
Similar Worksheets
---